The URSA has a "super 35" CMOS image sensor that comes in at 21.12 x 11.88mm. This will give you a 1.7x crop factor when you slap a full frame lens on it. With a global shutter, there's no jello effect to speak of. The shutter angle can go up to 360 degrees to eek out a bit more exposure at the expense of more motion blur. There's plenty of pixels packed into the sensor which has a 3840 x 2160 (UHD) effective resolution when recording in ProRes, and 4000 x 2160 when shooting RAW. Blackmagic claims a dynamic range of 12 stops, and our tests leave no reason to doubt that this is, in fact, the case. The ASA (the equivalent of ISO on a DSLR) options are very limited with options of 200,400, and 800. This makes it tougher to shoot with low light levels. Unfortunately, there is one huge flaw in the sensor. When the sun is directly exposed the resulting image produces a "black hole" where the sun is in the shot. Our tests found that even early morning and late evening sun suffered from this effect. This means you'll either need to fix it in post, or avoid the sun in your shots. When it comes to lenses, you've got a few different models that have different types of mounts. We tested the EF mount version, but you can also get a PL mount or a Broadcast mount (not yet available as of February 2015). There's even a "sensorless" version with a 4K HDMI input to which you can mount a DSLR camera.[video:18124]
Recording Options
The URSA has two slots that record to Cfast 2.0 cards. These cards are relatively new, which also means they're fairly expensive. We used two 128GB SanDisk cards that run just under $800 each at the time of writing this review. There are numerous recording format options that we break out into two categories, Lossless Cinema DNG RAW and Apple ProRes. The 1:1 RAW mode can record 23.976, 24, 25, 29.97 and 30 frames per second. The benefits of shooting in 1:1 RAW come at a hefty price on storage, allowing only around 8 minutes and 24 seconds of recording at 23.976 fps onto a single 128 GB Cfast 2.0 card. One step down the chain, you can record at RAW 3:1 and get more than 16 minutes of footage onto a single 128GB card at 23.976 fps. The RAW 3:1 mode adds in the ability to shoot at additional project frame rates of 50, 59.94 and 60 fps. As if this wasn't enough, the URSA also allows adjusting the sensor frame rate up to 80 frames per second. For example, choosing a project frame rate of 23.976, and setting the sensor frame rate to 72 results in footage that comes straight off the card at 33 percent speed on your 23.976 timeline without any footage interpretation. Both the RAW and RAW 3:1 modes allow shooting using only the Film dynamic range setting.
If you're willing to leave the added control of RAW behind there are plenty of ProRes options. At 3840 x 2160 (UHD) ProRes 444 sits at the top of the heap. We tested this footage for keying green screen and were blown away with the results. Additional ProRes options for UHD include 422 HQ, 422, 422 LT and Proxy. There are also ProRes options for shooting 1920×1080, including 444, 422 HQ, 422, 422 LT and Proxy. All the ProRes formats allow project frame rates up to 60 fps. All of the ProRes modes support a sensor frame rate up to 80 fps, with the exception of 4K ProRes 444, which is limited to sensor frame rate of 60 fps. The ProRes formats allow you to shoot in Film or Video mode. The video mode looks fantastic straight out of the camera, while the film mode gives you more flexibility in post. We're not sure why Blackmagic left out a 2.5K option, but we're keeping hope alive for that option to come out in a future firmware release.
Another nice feature is the time-lapse function. One option will record a still frame every 2 to 10 frames while simultaneously recording video. The second option allows recording single frames at a set time interval. Options for the interval include 1-10 seconds, 20, 30, 40, 50 seconds, as well as 1-10 minutes. The interval options gets fantastic results, while keeping memory usage down to a minimum.
Triple Threat
When people ask about our opinion of previous Blackmagic cameras such as the 2.5k or Production 4K models, our typical response is that they aren't very easy to shoot with, but the results are often worth the struggle. The URSA puts many of those complaints to rest. Let's start with the strengths. The URSA has not one, not two, but three monitors to help you get great shots and control various camera functions. The 10.1-inch foldout monitor is ridiculously big, has a 1920×1080 resolution and makes composing shots and judging focus a breeze. It's bright enough to see in direct sunlight, and has great overlay options for shooting different aspect ratios. You can display Video mode while recording Film mode, which gives you a better idea on how your footage will look after color correction. On the left hand side of the monitor, you've got button controls for record, playback, zoom (for setting focus), display (to reveal or hide overlays) and Program (to show you what's coming into the SDI in port). The front left side of the camera has duplicates of all but the Program button that can be used when the foldout monitor is closed.
The 10.1-inch foldout monitor is ridiculously big, has a 1920×1080 resolution and makes composing shots and judging focus a breeze
Behind the 10-inch monitor on the left side of the camera, is the first of two 800 x 480 5-inch touch screen monitors that allow you to access the functions that URSA has to offer. There are seven buttons that sit just below this monitor. Iris is used to automatically set exposure for supported lenses. In film mode, exposure is adjusted so no pixels are clipped. In video mode, scene average is used to set exposure. Focus allows you to automatically set focus, again, for supported lenses. The iris and focus buttons worked well with our Canon L series 24-105mm lens. The Peak button toggles focus peaking on and off. Display toggles between status and camera display. The status display is a great feature that offers a real-time histogram, focus scope and an audio waveform display for judging audio levels. Menu gives you access to the four main menus, including camera, audio, recording and display settings. Slate is used to enter metadata. It's safe to assume we can all figure out what the Power button does.
The zebra function works well as an exposure assist, but navigating the menus to make changes to the ASA and white balance settings can be a bit of a hassle if you're doing it a lot. We'd put dedicated buttons for those two controls on our wish list. On the right hand side of the camera you've got a second 5-inch touch screen that controls all the same functions as the first, which is a great feature when you're working with a larger crew. Both 5-inch monitors are a bit tough to see and use in direct sunlight, which had us using whichever display was on the opposite side of the sun at times.
Get Connected
The URSA doesn't skimp on inputs and outputs. On the front right there's a 3G-SDI output (downconverted for external monitoring), and a +12V power output for camera accessories. Also on this side of the camera is a LANC remote control port. The back end of the camera has five BNC connectors. If you're in a multi-camera environment, you can feed the program out of your switcher into the SDI in port so the camera operator can view what's being shown by pressing the program button. Below the SDI in is a 12G SDI out port that sends out a 10 bit 4:2:2 signal. Also included are BNC connections for Reference in, Timecode in, Timecode out, and a +12-20v power input. The backside of the camera is also where you connect a V-mount or Gold Mount battery plate. Paired with the right batteries, the short-battery life woes of previous Blackmagic camera are no longer an issue. Finally, the underbelly of the camera has a USB 2.0 port for camera updates. One thing that is notably absent is an HDMI port.
The URSA is ready for accessories with multiple ¼-20-inch UNC mounting options on top of the camera and handle bar, and multiple ⅜-inch mounting options of top of the camera body. Integrated rod mounts are compatible with the 15mm lightweight support standard.
Sweet Sound
On the right hand side of the camera you'll find 2 XLR inputs, along with two huge audio meters that you can see from a mile away. Large knobs to adjust input levels and buttons to mute or solo each audio channel give you easy access to record great audio. While you can route channel one into channel two, we were disappointed to find that you couldn't independently control each channel in this mode. Independent control would allow setting two different input levels for the same source. A full ¼-inch headphone jack sits just to the right of the audio control knobs. The layout of the controls on the right side make it a slam dunk for an audio operator to have access to everything they need without interfering with the camera operator. On the downside, the internal microphone is probably the worst we've ever heard, and is barely suitable for audio syncing.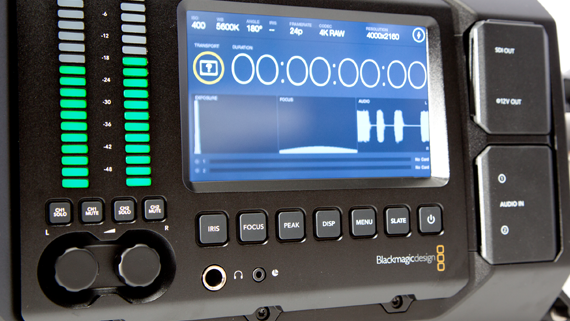 Size Matters
Okay, we've successfully avoided the 16-pound elephant in the room long enough.
The URSA comes in at 12.3 inches long, 6.1 inches wide and 9.6 inches tall. It's a big, impressive looking camera, but the weight is a hefty 16.52 pounds with no battery or lens attached. Reading the weight of this camera simply cannot do justice to how shockingly heavy it feels when you pick it up for the first time. If you're used to shooting with expensive cinema cameras, this may not be the case for you, but if you're used to a DSLR or even a pro camcorder, it's definitely an adjustment.
Not only does this make you think twice about its usefulness as a handheld camera, it also means that you'll be forking out more money for camera support like tripods or stabilizers, because the less expensive ones won't support the weight of the URSA. We mounted a handheld rod system to the URSA and took it out for a spin, and while the weight was easier to manage on the shoulder, the 10-inch foldout monitor was far too close for comfortable shooting. To shoot comfortably, you'd need to attach a third party viewfinder, adding yet more weight to an already heavy load. In addition, with no HDMI output, you'll easily drop more than $1,000 to get an SDI capable viewfinder, or you'll have to mount and power an SDI to HDMI converter which is not an elegant solution. If you're content to leave it on a tripod, you do get used to the weight after using it for a while.
Image Quality
Okay, the URSA is a behemoth. It's heavy, and it may not be the best option for run and gun, but how does the image look? If you keep your ASA at 400 or 200, the images the URSA produces are stunning. From full 4K RAW on down to ProRes 422 at 1920×1080, it's tough to find any fault in the footage. The color rendition is beautiful and true, and the amount of fine detail in the shots was extremely impressive. Initially, users complained of fixed pattern noise in dark areas, but the 2.0 firmware seems to have fixed this issue. It is possible that shooting for an extended period of time causes the sensor to heat up, and that may reveal this issue, but our tests came back clean.
Shooting at ASA 800 pushes the boundaries of acceptable noise, and you'll have to use post production tools to make it useable in some scenarios. ASA 400 isn't perfect either, but should be clean enough for use by many professional shooters. ASA 200 produces a result with far less noise. Shooting RAW over ProRes helps to reduce the noise in any scenario. The takeaway is to use fast lenses and shoot RAW if you want decent low light results. We can only assume that Blackmagic decided to limit the ASA offering because options above 800 didn't produce usable results.
When it comes to moire, the URSA proved to be very resistant. We tried to get the moire effect on some clothing with tight patterns and the URSA returned solid results. As advertised, the dynamic range is very wide. Even when we had our doubts about our shots in the field, the edit room revealed a wide latitude that was easily gradeable. The film mode looks flat out of the camera, but was robust enough to handle color grading without detrimental effects. The Video mode looks crisp, colorful and clean right out of the camera, and required little to no correction. While shooting RAW creates large files and adds steps to the workflow, the extra control over the footage makes the effort worthwhile. DaVinci Resolve 11 is included, and though there is a bit of a learning curve if you're new to it, it's a robust correction program that takes full advantage of the RAW footage. For those who want a faster workflow, the ProRes footage is more than sufficient in image quality, and comes in an easy to use package tailor-made for editing systems.
The Bottom Line
When you boil it all down, the URSA is an impressive camera if you're willing to deal with the four major shortcomings. The noise at higher ASA settings, the weight, the black hole sun effect and the need for additional accessories to do extensive handheld shooting definitely factor in to how and when you can use the camera. On the flip side, a huge dynamic range, great detail, integrated audio, mind-blowing rates of 80 fps at RAW 3:1, alongside great time-lapse features allow for truly creative options with highly impressive results. While it may not be the go-to camera for every scenario, it's far and away the most user friendly Blackmagic camera to date. The footage it produces certainly comes close to the results you'd expect from high end cameras that are far more expensive.
Tech Specs
Format: CinemaDNG RAW, Apple ProRes2
Sensor Type: 4K Super 35mm Sensor with global shutter
Size of Sensor: 21.1mm x 11.9mm
Shooting Resolutions: 4000 x 2160, 3840×2160, 1920×1080
Project Frame Rates: 23.98p, 24p, 25p, 29.97p, 30p, 59.94, 60
Sensor Frame Rates: up to 80fps (with the exception of 4K RAW and 4K ProRes 444)
Lens Mount: EF, PL, Broadcast (planned), HDMI
Microphone: Integrated mono microphone
Battery Options: V-Mount or Gold Mount mounting holes
Power: 4-pin XLR for external power supply or battery, 12 VDC output on 4-pin XLR
Recording Media: CFast 2.0 (2 slots)
Audio In: XLR (2) (Mic or Line level with +48V phantom power)
Audio Out: ¼-inch stereo audio headphone, 2-channel SDI Audio Output (x2)
Video Out: 12G-SDI (10-bit 4:2:2), 3G-SDI (downconverted for signal monitoring)
Video In: 12G-SDI
Additional Connections: Reference, Timecode In, Timecode Out
Other Interface: 2.5mm LANC for remote control; USB 2.0 mini-B port for software updates
Weight (body only): 16.52lb.
Strengths
12-bit 4K RAW
12 stops of dynamic range
Large sensor with global shutter
Three monitors for shooting and control
Reduced moiré/aliasing
Built in XLR
Frame rates up to 80fps
Timelapse mode
Image quality
Weaknesses
Black Hole Sun
Limited ASA options
Weight
Storage and workstation demands
Poor internal mic
No viewfinder suitable for handheld
Greg has been working in the Video and Film industry for more than 20 years. He is currently a Media Production Specialist and California State University, Chico.