Name: Daniel Hart

Cameras: Canon ZR850

Editing Platform: Sony Vegas Movie Studio 8.0, and Final Cut Express 4

Support Gear: Tripod, a green screen, and a pair of work lights

Website: www.youtube.com/smackwhitz.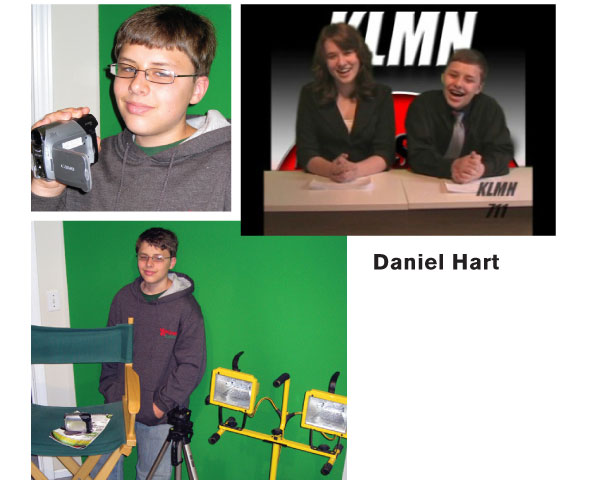 My name is Daniel Hart and I'm 14 years old. I started making videos about 7 years ago, when I was 7.
I, along with my older sister, Katie, and our friends would film ourselves making random movies we usually made up as we went along. The camera we were using was the same one my parents used to shoot my baby videos. It required VHS tapes and every time we would break down laughing, we would have to rewind the tape and film over it. Back then I had no idea what I was doing.
Advertisement
One day that camera finally broke and I went months without making any videos, until I finally decided to buy a new camera. I used my Christmas money to buy an Aiptek MPVR for about $200. We used that to make several videos with our neighbors which I started editing in Windows Movie Maker. At the end of the day we would all crowd around the computer and watch the finished product. I opened a YouTube account so that friends and family that lived far away could see our videos as well. It was at this point we started calling our company Xavious Pictures.
For Christmas of 2007, I was given a Canon ZR850, along with Sony Vegas Movie Studio 8.0 and a green screen for my bedroom. We used this equipment to make a couple of school projects for my sister, which actually turned out pretty well. Since then we've made several short films using the same equipment and I have earned myself the reputation of "the video guy." Because I am home-schooled, I can often work on videos in the middle of the day and have it count towards school credits.
Over the past few years I've shot and edited several promotional videos for my church which have played during Sunday morning services. I am often complimented by people I don't really know who just simply say, "Good job on the video today."
Last year Katie and I entered our first film festival, the Open Lens Youth Visions Short Film Festival and won second place with our film, "The Chase". We also tied for first place in the Audience Choice category. I might add that I was the only middle school student who entered.
Earlier this year we started a web series called KLMN News at 2. It's a parody of a newscast that we film in front of our green screen. We made two episodes which were very popular with all of our friends and family. They thought they were hilarious. But unfortunately our studio (my bedroom) isn't the ideal location for a green screen and we ran into problems with lighting. We've filmed our third episode several times now and each time the green screen is too uneven to remove in editing. We hope to someday get this problem fixed and continue making more episodes.
In summer of 2009 I started working as an intern with a local wedding cinematography company. My main responsibilities were to edit raw footage and create rough cuts of trailers and documentaries. Since the company uses Final Cut Pro, I needed to become familiar with that program. We purchased Final Cut Express for my mom's iMac and I began familiarizing myself with the program. I now edit all my videos in Final Cut Express. After interning for Vivid Wedding Films for a month they offered to start paying me as an independent contractor for the work I was doing. So now in addition to earning high school credits, I get paid to do something I love! My long term goals are to improve on my film-producing skills, purchase more equipment and pursue a career in cinematography.
Daniel Hart, Budding Cinematographer
Sidebar: About This Series

Video creation is sometimes a singular business, but video producers are a social lot. Our curiosity about our readers has inspired us to create this new column to introduce you to your fellow video producers.
Interested in telling us about your video producing passion? Send us profile, in 500 words or less, to editor@videomaker.com, using "Reader Profile" in the subject line. Please send us useable photos and tell us about your gear. More details here.