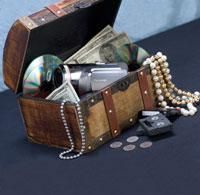 Turn time and tape into treasure
Maybe lately you look at your camcorder and think about ways to make some extra cash. Or maybe you want to start a new career or business in videography. If you have the desire, the opportunities are out there. But the first question you should ask yourself is, "What do I want to do?"
Consider the Possibilities
With so many prospects in the world of videography, to decide what you want to do can be daunting, especially if you don't know what's available.
You can sum up most videography work into two categories: family and corporate. Family projects involve events that relate to someone's personal life while corporate projects are business-related in nature.
Advertisement
To pick the right field, take into account the kind of person you are. If you don't mind kids, like to meet new people and prefer to work on a more personal level, consider the area of family. If you would rather avoid all those things and work more with products and companies, consider the corporate area.
While both sides offer plenty of opportunities, family projects tend to be easier to get and there's less risk of being niched into a single type of work. But compensation is usually better for corporate projects.
Family
With family work, people immediately think of weddings, bar mitzvahs and birthdays. Truthfully, videographers are sought for almost any special event that happens in someone's life: anniversaries, high school reunions, recitals, school plays and concerts, Christmas parties, graduations — even special trips. But family projects aren't strictly limited to simply recording memories.
Think you're the next Ken Burns? Why not create video biographies and memorials? Similar to a documentary, these projects tell the story of a person, family or group through a combination of interviews, collected footage and photographs. Some of the most creative and fulfilling projects I've done fall into this area.
Corporate
Most of us are probably familiar with corporate presentations, training and product videos. However, corporate work can be as varied as the business world itself:
Commercials for local businesses or political campaigns: This is one of the best places to get your start.
Music videos: Record labels always want to see what a band looks like before they sign them, so every local band wants a good video made. And really, what are music videos but simply three-minute advertisements?
Real estate videos: Companies know that video presentations of their "products" can enhance a buyer's desire to purchase.
Video resumes: Television news or jobs in public speaking require these to see what applicants looks like when they perform.
Legal videographer: Create case-related documentaries and shoot depositions for use within the court system.
Tribute reels: Similar in form to a video biography, but focuses primarily on the subject's business achievements.
The Job Search
Don't bother placing an ad in the local paper or phone book when you first start. This passive approach rarely works in the beginning. Be proactive.
Ask around: This is one of the first (and best) things to do. Nothing gets you in the door faster than a referral. This is especially true with family events. Friends, neighbors, relatives — someone's always planning something. Those who organize an event are often busy, so a simple introduction is all you need.
Network: Create a business card, then get out and meet people. Attend trade shows. Join online communities that help connect you with potential clients. Networking is a great way to develop relationships.
Go to the source: Want to shoot a music video? Hit the local club scene and meet bands. Want to work in real estate? Visit real estate offices. Hunt down the work because the work won't come to you.
Overcome the Catch-22
You may discover it takes a bit of time to land your first job. Most people want some kind of security in their hiring decision. So they may ask to see a sample of your past work.
Herein lies the catch-22. How do you get work when you have no experience but can't get experience because no one will give you work?
Beat the competition: Give a good deal. This can sometimes get a potential client over the Catch-22 hump. Get quotes from competitors. Then undercut their prices by a small amount.
Start small: Offer to do smaller jobs. This helps build relationships. You may not have landed that political ad for the local congressperson this time, but that speech you shot for him turned out great. He'll definitely remember you when the next ad comes around.
Work for the competition: For many, this is where businesses begin. There's no better way to build relationships and experience than to do so while someone else pays you.
The First Job
Once you land your first job, here are a few simple tips you can follow to help make your client happy.
Research it: Watch samples of other people's work. Look for new ideas and emulate those that you like.
Plan it: Discuss with your client the specifics of the project, what they expect and what you plan to do. Consider supplies and equipment. How many cameras? Additional crew?
Write it down: While a contract may be too formal for some shooting situations, a simple letter outline of the project and terms of payment would suffice. It's always good to have something to refer to in case any differences arise. A good place to find forms and report lists from pre-production, location scouting, production scheduling and equipment checklists is the Videomaker Book of Forms that you can buy from Videomaker's Web site. It has 91 forms that include Video Service Estimate to Program Budgets and Duplication Requests.
Consider legal issues: While legal issues are generally not a concern for a family project, corporate projects may require talent releases, location permits and music clearance if your project will air on broadcast, cable or satellite, or if your client is going to make money from the video. Check out the CD-ROM called Indie Film/Video Legal Documents, which has legal documents from releases to right-of-way use for video, television and film productions from Red Diamond Media, LLC (www.IndieLegalDocs.com).
Direct!: Make sure you are the one who calls the shots. If your angle in your shot looks like garbage, then change it or adjust the subject. You and your client both have the same goal in mind: a great product. So it doesn't matter if it's for a wedding or an advertisement, people expect direction.
Shoot the scene: Don't just capture the event. Expand upon it. Find the details in the scene and shoot them. Perhaps a child's smile at a wedding or the close up on the executive's handwriting for a corporate reel. There's nothing more boring than a video of medium shots.
Be creative: Find ways to add spark to creative projects. Create humorous moments in a tribute reel by adding funny captions to photos. Use music to set moods and ambience. Creativity adds spark. And spark is what people remember you by.
Leave a Good Impression
I have one major rule I live by: Put the work before the money. Go the extra mile if it makes the project better, even if it's not included in the budget. This doesn't mean go wild. But if the ideas are within reason, why not do them?
It's the little things and extras that give projects depth. The clients may not always notice what you've done, but trust me, they always feel it. Good work generates business.
But what if you blow it? We all have made mistakes. It's rare to have made one that's utterly beyond repair. So figure out a way to fix it.
Were you shooting with a second or backup camera? Can you set up a re-shoot? If it was a family event, did anyone else there have a camera running at the time? What about using photos to replace missing images? Do what you need to do to satisfy the client.
Conclusion
As your business grows, so do the opportunities. Eventually networking becomes easier. Doors open to referral partnerships with other businesses that work in the same industry as you — such as working with a mortuary for memorial videos or a still photographer for weddings.
Now is the time to trumpet your services by purchasing ad space in your local phone book and creating your Web site.
And if most of your business comes from word-of-mouth, those are your repeat customers. They were recommended by a previous client, so treat them as if they were the same person coming back again. A disappointed referral may kill any future referrals from the previous client.
Take care of your customers and your customers will take care of you.
Bill Berg-Hillinger is an editor of movie trailers and director of music videos and commercials.
Side Bar: 6 More Ways to Make Money
Some of these jobs require additional skills or equipment or were just too "niche" to make the big list. Enjoy!
DVD creation: Make DVDs for your friends and neighbors looking to transfer
their old VHS tapes. Warning: This could cost YOU if you don't work out who will pay for the media.
Hobby and how-to videos: Know how to build an antler chandelier? Make a
video and sell it! Warning: Quality matters. Pay attention to lighting, composition, and audio
when you shoot.
Underwater videographer: Go under the sea and shoot for education, oil
companies or tourism. Warning: Sharks!
Stock footage videographer: Travel the world. Capture interesting things. Sell it
to a stock footage house. Warning: Research which format and style they want first, or you may waste a
lot of time.
Freelance news videographer: Not all TV stations can be at every spot news
event as it happens, and stations buy video from "scanner buffs" all the time.
But it's not all about police scanners, injuries, and destruction. The annual
Watermelon Festival and other fun events held in out-of-the-way small towns
often don't get coverage on weekends due to a TV station's skeleton crew. Warning: Be polite, respectful and don't get in the way of the emergency personnel or TV crews that do show up. The police can arrest you, and the TV station may black-list you.
Filmmaking: Make that movie or documentary you've always dreamed of. Warning: Even Hollywood has a hard time making money at this.