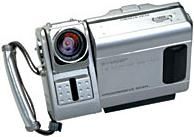 The year 2001 has carried in a treasure trove of new videography tools that make the creation of moving images and sound easier, cheaper and more enjoyable than ever.
As these products rolled off their assembly lines, many of them stopped at the Videomaker office on their way to the market place. We poked their buttons, clicked their mice and otherwise put them through their paces to see how well they did what they were designed to do. We shot video with the new camcorders and edited on the new computer editing systems. Then, we told our readers what we found in our Test Bench product reviews. Though a few products awed us with their brilliant design and functionality and a few dogs entirely "underwhelmed" us, most turned out to be good products with a few characteristics worthy of criticism.
As we know this is the time of year many think about buying toys, we thought it might be useful to group together, under one cover, a compendium of reviews of some of the year's most interesting products. We didn't have space for all the reviews we published this year, so we instead offer a sampling of reviews from four key product categories:
Advertisement
Camcorders from every living format
Computer video editing systems: hard-drive-based systems made to edit video without requiring the user to install anything into the computer
Editing software
Capture card-software bundles
Of particular note in the first category are the Mini DV and Digital8 models that record digital video. Significant in the second are reviews of the first two mass-produced computers sporting DVD-R drives ("DVD burners"), the whole systems selling at around $3,000. These enable you to create DVDs from your videos. The resulting high audio- and video-quality discs will play on most home DVD players.
For this issue, we selected reviews of products from a variety of manufacturers and across a wide range of prices. These reviews were first published, as the products were released, over the course of the last year.
In some cases, the prices may have changed since the reviews were first published; in some, the products themselves might have been upgraded. To help alert you to possible changes that may have occured, we have placed a line at the head of each review stating when it was first published in Videomaker.
Hopefully, this guide will help you find what you're after and give you a sense of what you can expect from a certain type of product at a certain price. To make this collection easy to navigate, we have organized the reviews by product type, and given each type its own color code. The pages of the camcorder reviews have blue edges, those of the computer editing systems have green, and those of the software reviews have red and those of the capture card-software bundles have orange.
Further, we invite you to visit our Web site, www.videomaker.com, where you will find a huge collection of reviews and comprehensive buyer's guide grids for every product category pertinent to the making of video.
Happy reading Happy shopping. Happy shooting.