A great way to get more out of your action cam is to attach it to a mount, and the helmet mount is one of the most versatile options. There are many different ways to mount your action cam and mic onto your helmet, but there are some factors to consider when choosing a mount. What situations it will be used in — are you mountain climbing, riding a motorcycle or diving underwater? What kind of helmet is being used? The activity you're engaged in will help dictate the type of helmet you'll be wearing. The brand of camera being mounted is also an important consideration. Whatever your answers to these questions,
…choosing the right mount can be critical in obtaining the best shots.
Front Facing Mounts
The first mount we'll cover is the front mount. This mount adheres to a flat portion of your helmet, and provides forward-facing as well as self-portrait angles. Simply stick the base of the mount in the desired location, and allow it to adhere for a day. Both GoPro and Sony have these options available for their action cams. When considering self-portraits, GoPro's option has a longer arm, allowing it to point directly back at the wearer. Sony's option will shoot down across the front of the wearer's body from head to toe.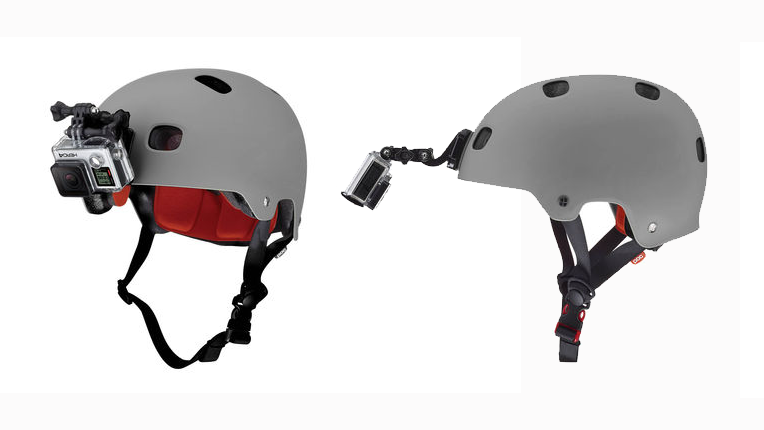 If you're wearing a full-face motorcycle helmet, you have the option of a chin mount, which is a more aerodynamic profile. This setup works well if you want to use a microphone. It can slide right under the helmet, and be placed right next to the mouth. The helmet and visor will help reduce wind noise.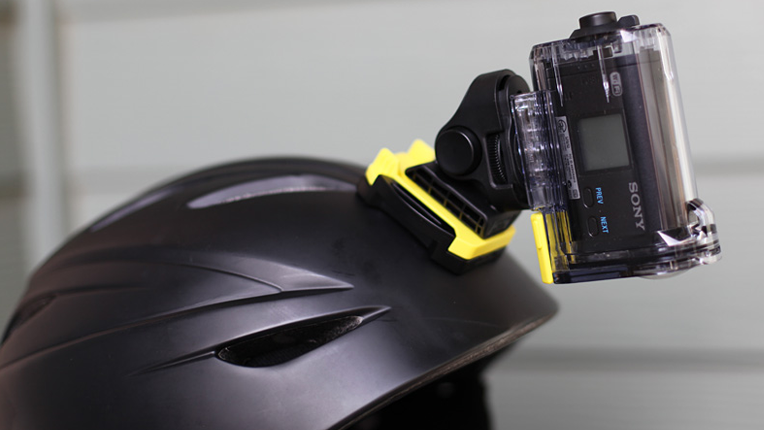 When you're ready to take off the mounting plate, a recommended method is to apply heat with a hair dryer to the adhesive bond. This should allow for clean removal of the mount.
Vented Helmet Strap Mounts
Action cam manufactures such as GoPro offer a trusted name-brand strap mount for their action cams. This mount is similar to the front mount. The main difference is using a strap as opposed to an adhesive to mount your camera, allowing you to change the location of the mount much more easily than with adhesive. You'll find this mount useful if you're participating in activities that use helmets with two vents in the top such as biking or skiing. You can also utilize the strap in more creative ways such as on the strap of a backpack, or around your leg; be creative!
Side Mounts
This mount can be right at eye level and so is great for POV shots. An advantage of this mount is it can be placed close to an ear cut-out or vent, allowing a mic wire to be easily concealed by threading it through the helmet. Both of the previously mentioned mounts could potentially be used in a side mounted fashion; however, a great way to mount any action camera to the side of your helmet is with 3M Dual Lock. This is velcro on steroids! Simply apply a patch to your camera, and another patch to the side of your helmet. It's easier to attach and peel off than using a mount. Doing this also allows the wearer to get the camera closer to the helmet by avoiding the use of a full mount assembly, which may protrude out from the helmet. The 3M Dual Lock also provides flexibility as to where you can mount your camera.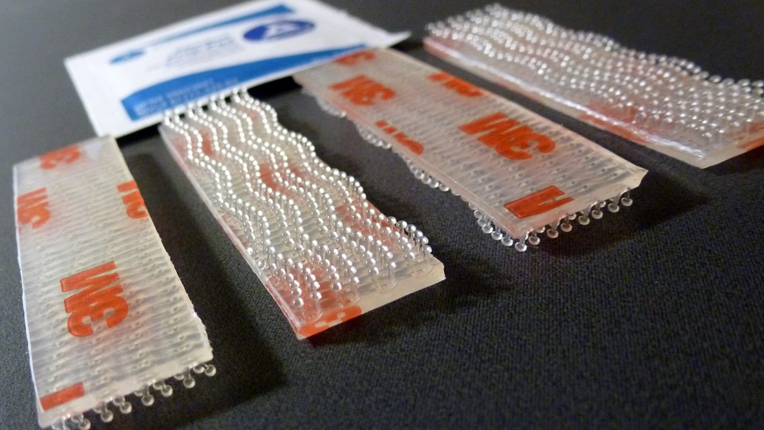 When it comes to helmet mounts for action cams, there are so many possibilities.
Creativity can play a role in coming up with new mounting locations. Be sure to shop around for the best mount for your needs.

Sidebar Quick Tip:
While helmet mounts are very popular, there are many other great options when it comes to mounting your action cam. A rather affordable and desirable option is a chest mount. Most manufactures of action cams have a chest mount option available with prices as low as $15. Another mount variation is the wrist mount, which is particularly popular for diving underwater. These can come in handy when a helmet is not needed and you don't want to wear a chest mount. The head on a wrist mount can swivel to face the wearer providing a unique self-portrait angle.
A freelance video producer and director, Devin has also worked in top television markets, and produced hundreds of television commercials