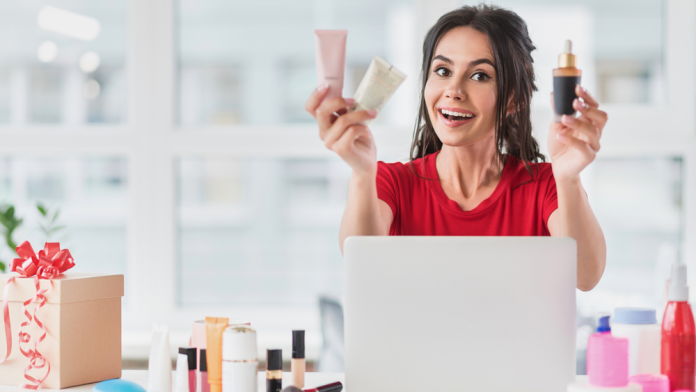 No matter what your homepage is, it should be clear that as soon as you fire up your computer for high-quality web-surfing, someone is making money. Not just the websites, but even individual scrubs like us. Beauty and lifestyle blogging, with its heavy emphasis on new products, can be especially lucrative, so we'll use this genre for our examples.
The Basics
For YouTube, all those little commercials you see before videos are from Adsense because it's a Google platform. It's incredibly easy to apply for Adsense, and you'll be approved quickly no matter your subscriber count. Don't expect to make a ton of money at first — the algorithms are complicated but not exactly subtle: more views, more frequently, means more cents.
Across platforms, affiliate link programs are probably the most common method of generating revenue, with brands like Amazon and Shopstyle. As with Adsense, you're paid after reaching the 100 dollar threshold, however often that is. You sign up with the service and then you're able to generate links for products; when the viewer clicks through to the selling website, you get a few cents. This works great for blogs, as well as in the video description!
Anyone can sign up for affiliate programs and Adsense, but some forms of sponsored content are more exclusive. These involve personal relationships with brands. There's some ways to introduce yourself: websites like Octoly connect beauty brands to bloggers, and you write reviews in exchange for a free product. You can also try emailing the brands yourself, or tagging them on social media in the hopes that they'll notice you. When venturing into this area, it's necessary that the brand matches with your online content. First, they're more likely to work with you if there's a common vision, and second, it'll be less jarring for your audience. Like, I don't expect a vegan health vlogger to use a lipstick tested on animals, you know?
Moving On Up
The next tier of sponsored content starts getting real posh, real fast. It's frankly cheaper for brands to shell out on bloggers rather than use traditional advertising, so that's why you might see people with loads of free products — or even on a vacation paid for by brands. This is the real arena of sponsored content, and it's almost a way to level the playing field between Internet folks and actual celebrities. Those actor-hyphen-models are plugging hair vitamins and teeth whiteners as much as the local makeup artist, it seems.
It's frankly cheaper for brands to shell out on bloggers rather than use traditional advertising, so that's why you might see people with loads of free products — or even on a vacation paid for by brands.
Creators can be paid for their reviews, to feature products, to make content for brands, or to go to the tropics. Honestly, there's not a ton of transparency on the part of the bloggers, which is understandable to an extent. It's not like everyone Instagrams their pay stubs from office work, and people deserve some privacy. That said, it would be foolish to assume that their reviews of a brand could be totally unbiased after spending a week in a paid hotel room! Perhaps the influencer has become the influenced?
Transparency
With all these ways to monetize your content, it's even more important to be transparent with your audience — not just for a healthier relationship with viewers, but also for legal reasons! Here's a scary example: In April, the Federal Trade Commission sent a bunch of stressful letters to Instagram users who need to be more clear about their "material connections" and product placement, as well as to the brands involved. The offenders were mostly celebrities and athletes, but we in the tube-o-sphere should still take caution. You have to disclose that you're making money!
There has been a push in the larger community to be more transparent about sponsored content, hence the rise of #ad or #spon, but it's not just a matter of taste. As the FTC explains, a material connection between a brand and individual will obviously affect their opinion, and viewers should know if that review is sponsored before they spend money. Even if the vlogger did buy the goods, they can write off the expense, including travel, in their taxes since it's a necessary part of their job. Yup!
Plus, those little hashtags don't always cut it! Be direct; use your big kid voice.
Honesty is the best policy.
Sometimes, calling attention to affiliate links and sponsored content can be off-putting to viewers. It seems to diminish the relationship between creator and fan by making the element of capitalism and consumerism more apparent. It's a peek behind the curtain that some would rather remain in place. How can a vlogger be your cool, pretty, best-friend if they're making money off your interactions? But this all relies on the foundation of the relationship. Be honest at the start, and it's easier to be honest later.
Rhiannon McGavin began making YouTube videos when she was 12, and continues to use the platform to discuss art, literature, and lipstick. She interned for 2 years at RED Studios in Los Angeles, and is also the current Youth Poet Laureate of the city.