RØDE, the Australian-based manufacturer of premium microphones, has entered the realm of wireless microphone systems with the RØDELink Filmmaker Kit. RØDE is typically known for their on-camera and studio microphones, with this as their first fully wireless system. The RØDELink kit consists of a beltpack transmitter, camera mount receiver and a lavalier microphone. RØDE is trying to carve out its place in the wireless market by designing the RØDELink to be specifically used with DSLR cameras. This is why there is no XLR cable option. RØDELink offers innovative, new to market features and a new spin on some standard wireless features. The sheer simplicity of this system makes it a great choice if you're looking for an alternative to wired mics or working in scenarios that demand that you set up channels quickly, such as a multicam shoot. With a competitive price point, RØDELink will be sure to take its share of the market.
Initial Inspection
Immediately after opening the box, you'll discover arguably one of the coolest features of the RØDELink, their "one touch pairing." No more having to find and choose which frequency to use. Simply power on the receiver and transmitter and the two will sync within seconds. Using a series II 2.4 GHz encrypted digital transmission sent on two channels simultaneously, RØDELink automatically scans the frequencies and chooses the strongest signal available. It will even switch to a new frequency when necessary in order to maintain the most reliable and secure signal possible.
The RØDELink offers 10 hours of power from 2 AA batteries, or the receiver and transmitter can also be continuously powered via micro USB cable, providing new options to power your system. Something else you will notice right away is that the RØDELink is much larger than other wireless systems. The larger size is due to the built-in antenna — a refreshing change from the typical antenna sticking out just waiting to be snapped off. The convenience of the built-in antenna has its trade off though. Being a larger transmitter means it will be more difficult to conceal, and when it comes to wireless systems, concealment can be a very important aspect to consider.
Using a series II 2.4 GHz encrypted digital transmission sent on two channels simultaneously, RØDELink automatically scans the frequencies and chooses the strongest signal available.
Despite their size, the receiver and transmitter are considerably lighter than other wireless packs, to some extent due to the plastic build. Regardless of the plastic components, the receiver and transmitter feel quite sturdy and all the buttons are robust. The sliding backplate seems to be the only weak point of the receiver and transmitter units. When all the way open, the sliding backplate sits loosely on the tracks and seems prone to breaking.
The display on the receiver displays both the transmitter and it's own battery life, which can be very useful. The lav mic itself was very discreet without a windscreen or pop filter installed. There is an "invisiLav" option available for $18, which can be hidden anywhere completely out of sight. InvisiLav aside, I felt as if the pop filter made the mic stand out too much as it adds considerable bulk to the very small mic. As for the "mini-furry" windscreen, the socket inside broke while trying to insert the mic for the first time and it definitely draw attention to the mic, making it one of the system's weak points.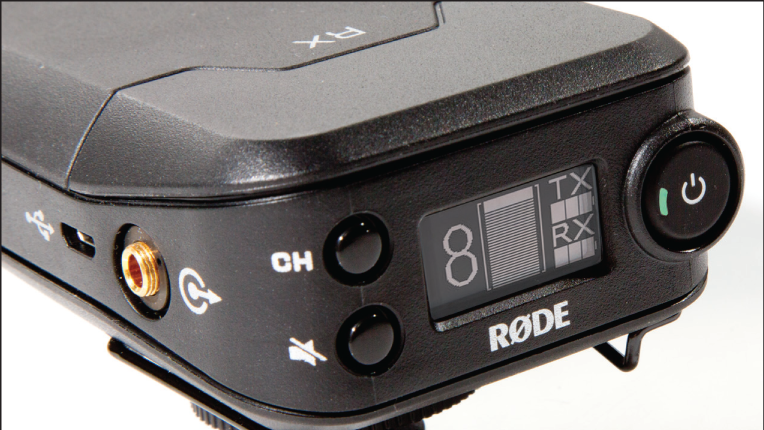 We didn't experience it during testing, but reading through forums, we came across enough people complaining about the weakness of the cables for it to be a potential concern. The wire connection points seem rather thin and fragile when compared to microphones that are twice as expensive. This could lead to buying replacement wires, therefore defeating the purpose of saving money by choosing the less expensive RØDELink.
Out in the Field
For initial testing, we took this wireless system outdoors to a rather quiet and spacious park. The wind was light and background noise was minimal. Audio quality remains the most important characteristic for any microphone system, and the RØDELink recorded exceptional audio. There is some hiss, but it's not too bothersome. The hiss is most likely due to the poor connection of the Micon-1 adaptor. This adaptor is not the best connection, and is fragile. Detaching and reconnecting the mic to the adapter can alleviate the hiss. In a side by side comparison with a wireless system that costs twice as much, the RØDELink held its own, and we were actually surprised with the quality of audio it produced. We'll mention that the higher priced microphone had a wider dynamic range. All things considered, you're getting very good bang for your buck with the RØDELink.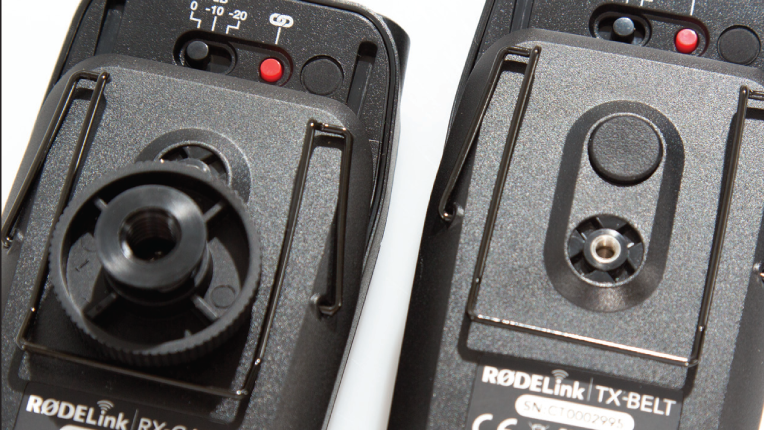 The packaging on the RØDELink claims the microphone will function at up to 100 meters, so this had to be put to the test. We concluded that it's safe to say the RØDELink lives up to this claim, but only under ideal conditions. To be on the safe side, We'd recommend staying within 75 to 80 meters, which should be more than enough range for most situations. We tried to cause drop outs by cutting off the line of sight between the receiver and transmitter. We noticed no loss in transmission while hiding behind walls.
As expected, the RØDELink performed just as well indoors. Since the lav mic is an omnidirectional, there is the possibility of picking up unwanted sounds when not in a controlled environment. While filming a testimonial for a TV commercial, we turned off the radio and air conditioning in hopes of creating the ideal environment to record audio. We performed tests with the mic attached closer and further away, and even off center from the person's mouth. We felt the mic performed the best when placed six inches or closer from the talent's mouth. This is slightly closer than we would normally recommend since, at this distance, you're prone to audio popping. We'd say the RØDELink performed well under testing. It lived up to all of it's claims, and most of all, it recorded quality audio.
Final Thoughts
Compared to other wireless systems in its price range, the RØDELink offers good noise to signal ratio and some cool features. The easy to use one touch pairing makes this microphone system very convenient. The RØDELink can stand up to systems that are twice as expensive; however, we have concerns about it's longevity. Overall, RØDE did a great job with their first wireless microphone, and I'd expect no less from this trusted company. We'd recommend this product for its ease of use, great price tag and quality audio.
Rode.com
$399
Tech Specs:
Transducer Type: Condenser
Form Factor: Lavalier
Pickup Pattern: Omnidirectional
Powered: 2 x AA Battery Or Micro USB
Connection Type: 3.5mm locking thread – compatible with MiCon-1
Battery Type: AA
Frequency Range: 60Hz – 18kHz
Mute Switch: Yes
Frequency Response: 60Hz – 18kHz
Output Impedance: 3000 ohms
Sensitivity: -33.5db re 1 Volt/Pascal
Strengths:
Ease of use — turn it on and it's ready to go!
Good value for price
Long range
Light weight
Weaknesses
Hum/Hiss
Plastic body
Cables not durable
Freelance producer and director Devin Hujdic has produced hundreds of television advertisements and graphic designs for local and top television markets.