In a nutshell
Slow motion is achieved when you shoot footage at a higher frame rate and play it back at a normal frame rate
At 60 fps, you slow down an actor's walk, while at 240 fps, you capture things too fast for the human eye
Most prosumer cameras will at least do 60 fps, however, there are plenty that go up to 120 fps
Until recently, directors didn't have a lot of choice in slow motion without highly specialized equipment. 1987's Panaflex Gold II, for example, could only shoot a maximum of 40 frames per second. Today, inexpensive cameras will shoot 240 fps, opening up a world of possibilities—though directors still use other techniques to expand or compress time. Slow motion is a great tool in cinematography, as it creates a more impactful and emotional shot that helps tell a story.
Slow motion occurs when your shooting frame rate is greater than your playback frame rate, which might seem a little counterintuitive. The faster your frame rate while shooting, the slower things will look when you playback. This is, largely, because playback frame rates are always the same. Well, they're not always exactly the same, and it's very complicated why they're not. But let's just pretend that they are for now. If you want more information check out this video.
The faster your frame rate while shooting, the slower things will look when you playback.
Video plays back at 30 frames a second and theatrical movies playback at 24 frames per second. These four missing frames cause a whole world of pain when trying to put a movie on TV. If you shoot video at 120 frames per second (fps) and then play it back, it will appear four times slower because it takes 4 seconds for those same 120 frames to appear when played back at 30 fps. If you have a Phantom Flex camera shooting 10,000 frames a second, it will take 333 seconds, or nearly six minutes, for one real-time second to pass.
Choosing the right frame rate
Let's take a look at what frame rates might be best for different things. All of this is subjective though-Fox Sports, for example, used nine different slow motion cameras, ranging from 360 fps to 2,000 fps to cover the 2017 World Series.
60 fps
Things that are already pretty slow, people walking, candles being blown out on a cake. Somewhere around 60 fps is the standard Hollywood Dramatic of people getting dressed, walking through school hallways, looking, well, dramatic. For instance, in Taika Waititi's 2017 "Thor Ragnarok," there is a mammoth battle at film's end. When Valkyrie, played by Tessa Thompson, arrives for a battle with an army of villains, she walks in at about 60 fps.
120 fps
Things that move slightly faster—people and pets running, slower sports.
240 fps
Things that are happening too quickly for the eye to see, fast sports, things splashing, water moving. The GoPro HERO9 is great for this.
480 fps
Great for fast moving sports, golf swings, skateboard tricks, skiing.
960 fps
Great for balloons popping, things breaking. The Hurt Locker explosion scenes were shot with a Phantom HD at 1000 fps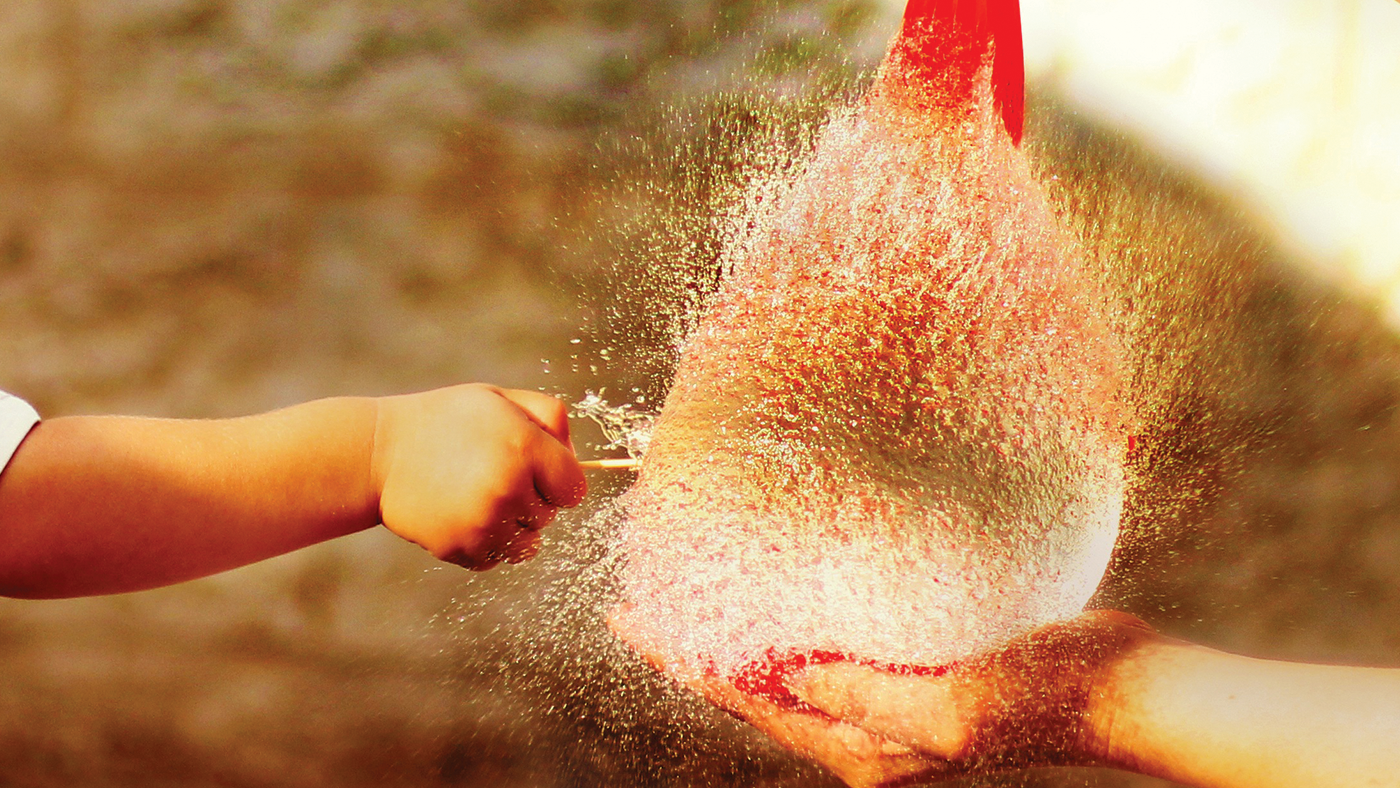 Practical uses
There's a movie trope called a "meadow run" where two reunited lovers run to one another across a field. It happens in "Gone with the Wind" when Ashley returns from the war. It also happens at the end of the 1942 Ronald Reagan film "King's Row." Somewhere along the way, this entered into our cultural subconscious. Advertisers like Clairol began riffing on it as early as the 1960s, with people's hair bouncing in bucolic fields in luxurious slow motion.
Today's cameras offer a variety of frame rate options. Most prosumer cameras will at least do 60 fps, which will slow motion down to half speed. Many now go up to 120 fps and specialty cameras will go even higher. What frame rate you need depends on what you want to shoot. Choose your frame rate based on how long you want your final footage to last. A meadow run that takes 10 seconds for your actors to do might look fine at 60 fps, but shooting it at 120 fps would make your final footage 40 seconds long, which might be tool long unless you have something captivating to go with it.
When Kevin Costner pulls a shotgun in Brian De Palma's 1987 "The Untouchable," it sets off a slow motion gunfight that lasts the duration of a baby carriage bouncing down the steps of Chicago's Union Station. It's an event that probably would only take five or six seconds in real life. But Dipalma manages to convincingly stretch this into a full, action-packed 1:48.
The opening scene of "Chariots of Fire" shows a group of young men running in slow motion along a beach. It lasts for nearly a minute, which is a pretty long time to stay on one shot. But it's also got the classic song by Vangelis playing. Plus, the shot is being used to introduce the stars of the film.
Even extremely fast subjects are too slow for some film speeds. Jamaican sprinter Usain Bolt once set the 100-meter dash world record at 9.69 seconds. Shot at 1000 fps, it would take him nearly six minutes to finish the race. However, 1000 fps is great for photographing things that happen in the blink of an eye, like the explosions in Kathryn Bigelow's 2008 film "The Hurt Locker," which were filmed on a Phantom HD camera. This gives you the opportunity to see gravel thrown into the air, individual rocks come apart, and people fall to the ground.
Different frame rates can even be used within a single production, according to the shot and subject matter. High-speed cameras allow you to capture things like water balloons bursting and guitars exploding, and slower, but still high speed, cameras can be used to capture people moving.
The OK Go video for "The One Moment" was shot in 4.2 seconds of real-time with a variety of cameras with frame rates between 90 and 6,000 fps and it, like many OK Go videos, is one of the most technically brilliant pieces of short filmmaking ever.
Slow motion is an art
None of this is hard and fast—the limits are your filmmaking imagination, the equipment you have access to and your ability to tell a story. If Brian De Palma had a 1000 fps camera in 1987, he might have used it. He didn't, yet still managed to make a blockbuster that grossed a $100 million and was nominated for four Oscars. Use what you have and fill in the gaps with good storytelling.
Capture some great slow motion footage? Tell us about it in the Videomaker forums.