CES is a lot to take in, but we've managed to put together a brief run down of trends seen at the show as well as how the new products and services will affect the way we work with video.
Drones
From models that can fit in the palm of your hand to one's that can carry a cinema camera rig, CES seemed to have as many drones as TVs on display. The growing number of laws and regulations regarding drones doesn't seem to have manufacturers concerned with seemingly every exhibitor having at least one drone in their booth. Even camera brands like Vivitar and Polaroid had new drones they were showing off. If that wasn't enough drone for you, there was a Drone Rodeo during CES, held just north of Las Vegas, were a select group of manufacturers gathered to demo their drones and related products.
While drone prices don't seem to be dropping much, there were a lot more features built into many of the models shown. Options like safety parachutes, redundant radio control units and collision avoidance systems that were previously in development or only available as add-ons were being shown as integrated features of new and upcoming drone models. If you're looking to buy a drone in the next year, be prepared; there will be a lot more options to consider in drone models, and that's a trend that should continue for the next few years as interest in drones continues to grow.
3D Robotics (3DR) and Byrobot showed two very different options to help new pilots with controlling their drones. 3DR announced an update to their mobile app that allows you to program multiple points via GPS data for your drone to fly to in a single run. For shooting video, it is almost like an aerial motion control unit in that you plot the points you want the drone to fly to and the speed at which you want it to fly, and it will perform the moves automatically using the drone's onboard GPS to control its course.
Byrobot has their new mini Petrone that's expected to release in the fall. It can be controlled via a mobile app and does include a camera. If you have two or more, you can get into aerial dogfights. The Petrone is small enough to safely fly indoors and is expected to retail for less than $100. At that price, it's an inexpensive way to get some flying time in before taking your expensive camera gear and drone into the sky; besides, drone fighting sounds much more fun than test flights.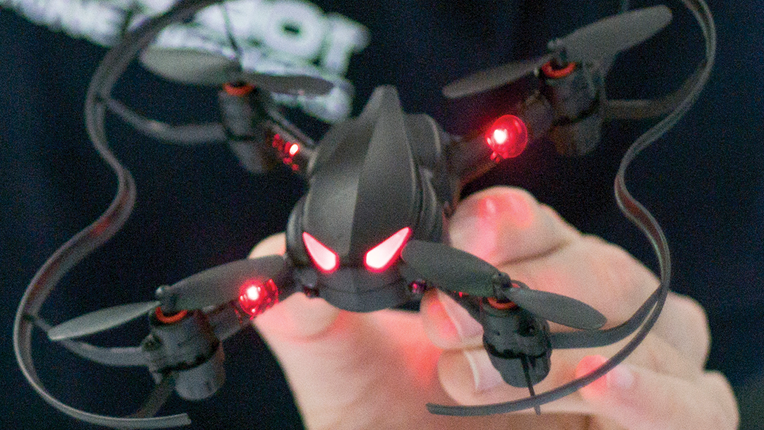 TVs and Monitors: More Resolution, More Colors — For Less Money
The first ATSC (American Television Standards Committee) 3.0 UHD (4K) broadcast took place during CES. Samsung and LG both had TVs with the new ATSC 3.0 tuners showing the broadcast in their booths, although the new broadcast standard won't be finalized until later this year. That will be approximately a year since Netflix and Amazon started 4K streaming and around 2 years since Sony's 4K media player and streaming service launched. While broadcast may have been the gold standard for the new formats that consumers watch, it's clear that streaming television has taken over.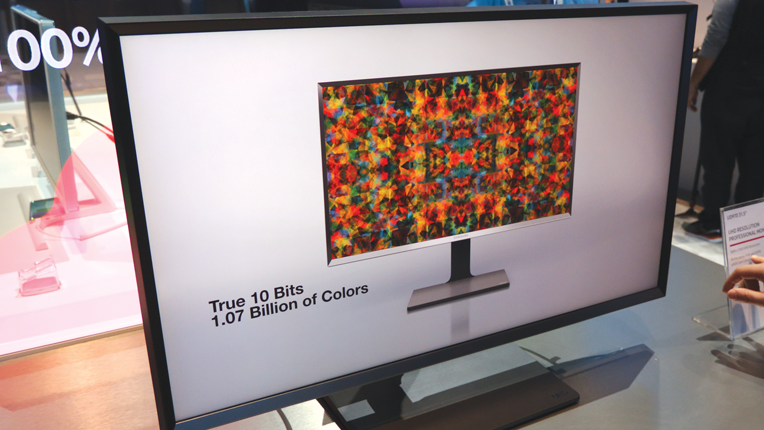 The UHD Alliance released a new standard for TVs with the Ultra HD Premium logo program. In order for a television to carry the Ultra HD Premium logo, the unit must adhere to a host of requirements including having a 3840 x 2160 resolution, support for 10-bit color and the ability to reproduce more than 90% of the P3 color space.
As a comparison of color and the shades of luminance or the variation from light to dark in the picture, 8-bit color — used for HDTVs — only has 512 shades of luminance, whereas 10-bit color gives you twice the amount with 1024 shades of luminance. The P3 color space is the standard set by the Digital Cinema Initiative (DCI) as the minimum color reproduction required for digital cinema projectors. This means you'll be able to view footage you've shot on a consumer TV with the Ultra HD Premium logo and get image reproduction that is almost as good as a movie theater.
This means you'll be able to view footage you've shot on a consumer TV with the Ultra HD Premium logo and get image reproduction that is almost as good as a movie theater.
It has been cited by some that the downside to using a consumer TV for post-production work is that the better models are 40 inches or larger; however, this might not be a drawback for everyone. For many of us working in post-production now, we're using two monitors approximately 21 inches in size with a resolution of 1920 x 1080 or barely higher. If you were to switch to a single 42-inch 4K monitor, then your Pixels Per Inch (PPI) is about the same; so, if you were able to see individual pixels in the image on your 21-inch HD monitor, then you should be able to see them in a 42-inch 4K TV if you're viewing from the same distance. Also, most newer TVs support HDMI 2.0, which allows for frame rates up to 60 fps at 4K.
ATI and NVIDIA released video cards earlier last year that supported variable frame rates from 60 fps to over 100 fps. This year at CES, major monitor makers were showing off current and new monitors designed to work with these video cards. If you're working on footage shot at 30 or 60 fps, then this new gear may not be for you. However, if you're working on 24 fps footage designed to play on digital cinema projectors, like a short film for a festival, then monitoring your footage at 72 fps or 96 fps could be helpful since many cinema projectors natively run at one of these frame rates.
Even with the host of 8K HDR (High Dynamic Range) TVs on the floor, English company Kino-Mo showed off what was possibly the most impressive new display. The relatively small projection units showed what appeared to be a 3D holographic image with surprising clarity. The image was produced by a spinning LED array; while not a new technique, the implementation of the technology was very impressive giving an almost 180º viewing angle. The units are currently available and are in use in specialty ad campaigns in Europe; companies are sometimes even using them mounted to bicycles. While Kino-Mo is focused on the use of the displays for marketing, it would be great for signage or décor used at events or even as a screen free Augmented Reality (AR) display option for museum type exhibits.
AR and VR
Even with a section of the CES show floor dedicated to Augmented Reality (AR),Virtual Reality (VR) and gaming, there still didn't seem to be enough space, with HTC and Samsung having spaces outside the show floor to demo their VR systems. While there weren't many advances shown in AR that are anywhere near release, that could be changing soon. With the Intel RealSense cameras and other similar technologies in development that can estimate depth and help identify objects being integrated into tablets, it won't be long until we see practical systems that can replace the signs with QR codes used by many current AR installations.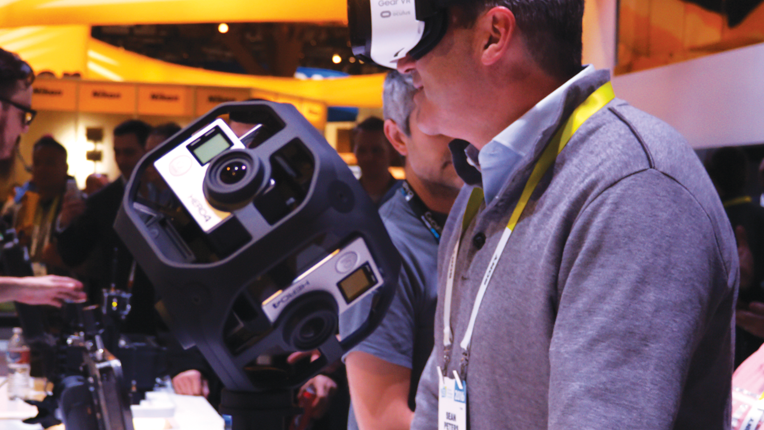 Even with the excitement at the show around the upcoming release of new Oculus and PlayStation headsets, the focus was definitely on mobile powered VR systems, which is no real surprise. Exhibitors at CES clearly illustrated that VR could be a lot more accessible to most consumers by using a smartphone in a simple VR system like Google Cardboard or a more sophisticated one like the Samsung Gear VR. Using the smartphone you already own, you just slide your phone into the holder. The headsets retail for as little as $10 and upwards of $150 depending on features. You just load the app or game you're interested in and go. You don't need a game console or a high powered PC. That said, there was still a great amount of interest in headsets for console and PC gaming. While you can expect to see many VR users on console and PC platforms, most will be on mobile.
There were a number of dedicated screen, HDMI connected goggles shown at CES but the Glyph stood out. While most had diopters to let you adjust focus for your eyes, the Glyph also let you adjust for the distance between your eyes as well as being able to adjust the nose pad, which made the goggles much more comfortable and easier to use. The goggles are built to work with many popular drones, utilizing gyro sensors so that when you move your head, the camera gimbal on the drone moves while you see the video the drone is capturing. Control over HDMI protocols are used via the drone's existing wireless video system, so no additional hardware is needed on the drone. Those same gyros in the Glyph let you pan and scan across 4K footage as you watch VR video. While the display resolution is only 1280 x 720, it uses a DLP array much like many projectors, which gives a brighter, sharper image than most goggles with 1080 LCD screens.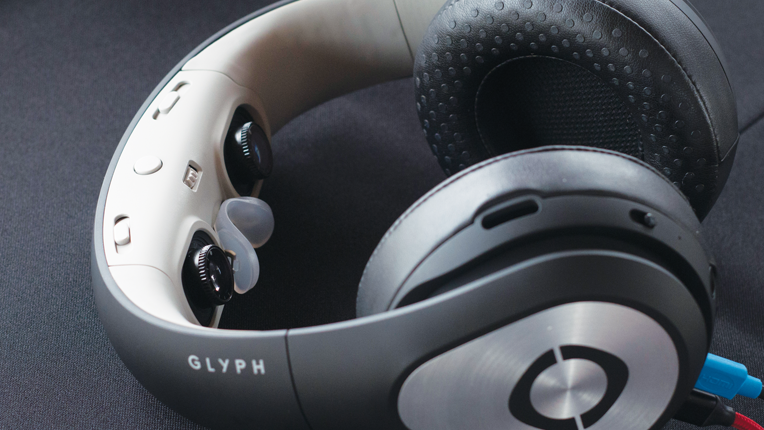 Even though the viewing equipment for VR video has continued to evolve, there hasn't been much headway on affordable options in content creation in the past. CES saw that change a bit with a host of new 360º cameras on the show floor, many designed to work with YouTube.
Cameras
360º action cameras are hardly a new development; but at CES, a few new players got into the game. Vivitar announced the DVR988HD 360º action camera that is set to release this spring bringing VR shooting to the low budget crowd with a retail price of $169. The DVR988HD will record 1920 x 1080 30 fps video with an estimated 4 hour battery life and includes a built in LCD screen and Wi-Fi. The new Vivitar camera will be release for sale at Walmart, Target and Amazon, initially, making it easy to acquire at the last minute for a production.
Nikon showed off their upcoming KeyMission 360 action camera which will utilize a pair of image sensors to create a 360º 4K video image. The KeyMission 360 may be a good option for those looking to intercut action camera footage with Nikon DSLR footage since the company typically works to maintain a uniform image look with their cameras.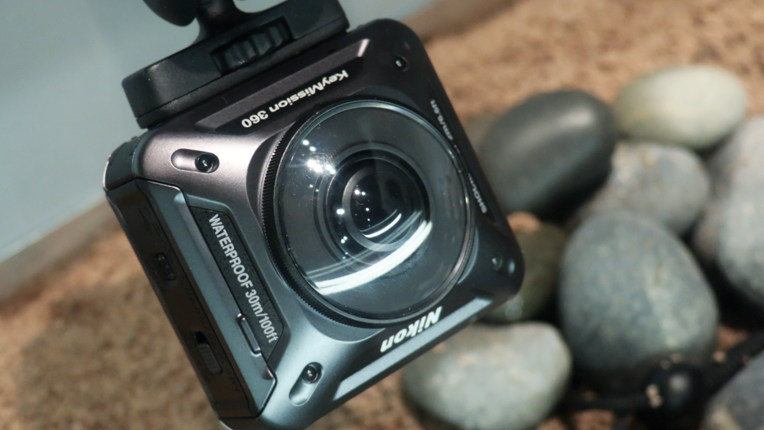 Nikon also displayed two new DSLRs with 4K video shooting capability: the D500 which features APS-C sized image sensor, which is almost the same size as the Super 35mm film format, and the D5, which has a full frame image sensor similar in size to the larger VistaVision film format. Both cameras feature Nikon F lens mounts and will be available in March.
Canon displayed their upcoming Cinema EOS System 8K camera that shares the body style of the current models (C300, C500). It seems like we may have to wait for the 8K camera's release to see a more affordable 4K DSLR from Canon.
Sony continues to add more models with the Balanced Optical Steady Shot feature to their camcorder line; this feature has better image stability than many motorized gimbal systems. A few years ago, Sony developed this image stabilization system that instead of using motorized stabilization to adjust a single lens element or just the image sensor, Balanced Optical Steady Shot has both the image sensor and the lens elements floating together to achieve amazing image stabilization. In March, the AX53 camcorder will be released featuring Balanced Optical Steady Shot, a 20X Zeiss lens (the 35mm equivalent of 26.8 – 536mm), 100 Mbps 4K record capability, and PCM audio with a retail price of $999.
While Kodak showed off their popular 360º action camera, it was the announcement of a new Super 8mm film camera that stole the spotlight. Showing a mockup of their first new 8mm film camera in decades, it will shoot images to Super 8mm film, record audio to an SD card, have a flip out LCD screen, and a C-Mount for lenses. While shooting on 8mm film is more costly than many digital formats, and the detail is probably equal to that of 720p video on average, it offers a color richness that is rivaled only by digital cinema cameras or larger film stocks. Additionally, there are still many film festivals that love to program movies that are actually shot on film.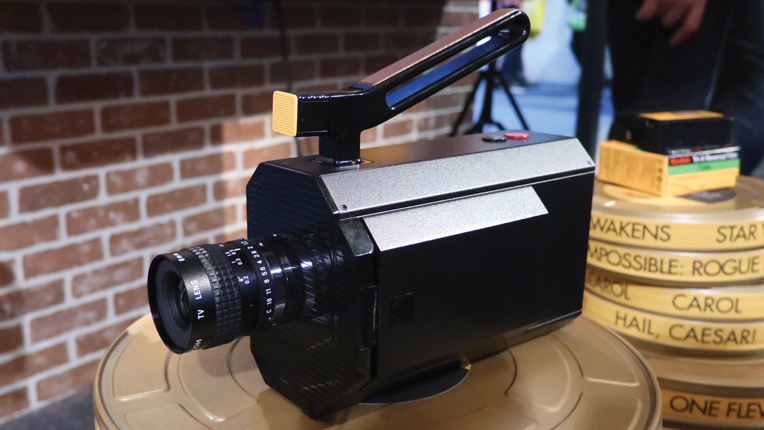 Storage
Data storage options continue to slowly become more portable, versatile and affordable for post-production, but sadly the same is not true for archiving — long term video asset storage. While the size and cost of hard drives continue to improve, there isn't, as of yet, an accessible alternative that's as cost effective as hard drives for archiving large projects. Panasonic announced the development of a new optical storage system that Facebook is using, but it is designed for large businesses only. In Technicolor's booth, they used a VR exhibit that focused on their working with scientists to develop a DNA-based storage system. A Technicolor exec explained that this would allow one to archive a feature film in a small tube of liquid; however, this technology is still years away from deployment.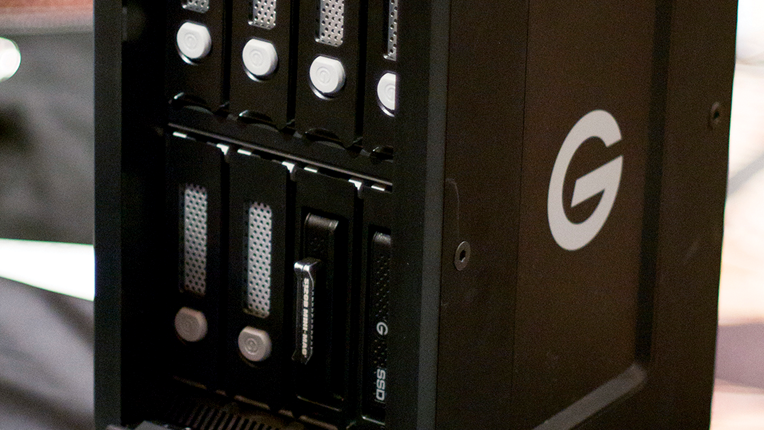 CES Conclusions
To sum it all up, CES 2016 showed us that the drones aren't going away. You can expect to see plenty more consumer models and features to release in the next year which should help lower the prices of the pro models. The same can be said for cameras. With 4K and 360° consumer models being very affordable, one hopes that pro model cameras will also come down in price. This maybe the year for you to upgrade to a 4K display for better color reproduction or higher frame rates. The trend in VR is mobile, which is great for those looking to create content because all it will take is for a few apps to become popular for the format to really take off. Finally, not only is film not dead, but Kodak is working on making it much more accessible to filmmakers. It's important to keep all these trends in mind not only when buying or renting gear but also when producing content.
Odin Lindblom is a cinematographer and award-winning editor whose work includes film, commercials and corporate video.