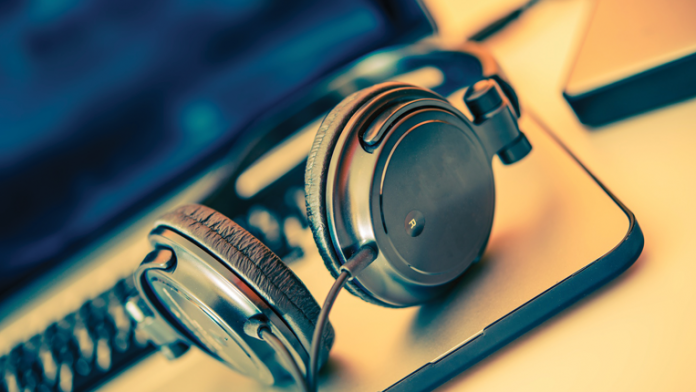 Audio may take time to adjust to video, but content creators who long for the days of silent movies aren't going to attract much of an audience for their work. Having the right kind of audio isn't just about whether it's dialogue or music as much as it's about properly positioning sound within the confines of the video. Hence the creation of audio editing software that not only allows for editing recorded audio in both in large and minute fashion through trimming, applying effects and mixing multiple audio streams into one cohesive whole. Although there are audio editing features built into most video editors, using a separate audio editing program provides more robust control.
Audio editing tools can also trim areas to remove unwanted sounds or periods of silence, deconstruct sound frequencies to remove sound dropouts and isolate, emphasize or minimize areas of the audio.
All audio editing software shares a few basic functions. These include the ability to import files of different audio formats and to normalize audio files for ideal dynamic range. Audio editing tools can also trim areas to remove unwanted sounds or periods of silence, deconstruct sound frequencies to remove sound dropouts and isolate, emphasize or minimize areas of the audio. Such software can also add effects such as reverb among others.
Just as with video editing programs, audio editing software comes with varying abilities and complexity — in some cases there are learning curves that could give pause to the novice sound editor. On the other hand, thanks to fast computers now being commonplace, the render time for manipulating audio so as to hear what has been done to it is no longer onerous or time-consuming. Nor are complicated and expensive peripheral add-ons a necessity — modern computers are well equipped with the technology needed to drive software towards its goal. That doesn't mean that there aren't minimum requirements that a software program needs, just that they are no longer out of the reach for the enthusiast or semi-professional.
Choosing the right audio editing software requires first having a good grip of what it is that must be done to the audio. Then the various software packages can be reviewed so that the best program can be chosen in order to accomplish this goal. To help with this, we'll review a number of the available audio editing software programs.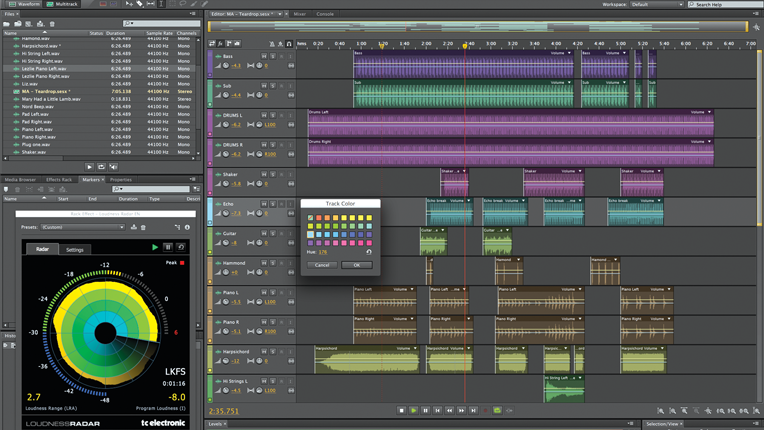 Adobe Audition CC – $20 monthly
Window/OS X
This comprehensive audio editing toolkit provides for mixing, editing and the creation of audio content. Multitrack projects can be created quickly through clear and comprehensive clip handling, using a streamlined interface with dock panels that emphasize the tools most needed. Visual editing tools are similar to those found in other Adobe software. Other features include a sound remover for eliminating unwanted audio elements, a preview editor for confirming edits and comparing waveform tweaks and sound tools such as a Noise Generator and a Pitch Blender. There is also an enhanced Spectral Display editor and an ITU loudness radar panel, which conforms to today's broadcasting standards, providing a visual feedback. Also included is 20GB of Cloud storage for file organization, syncing settings across multiple computers and sharing work with others. Adobe Audition can be installed on up to 2 computers (PC or Mac).
Media Browser for scrubbing through media prior to import
Automatic speech alignment for replacing location dialogue with studio recorded ADR
Audacity – Free
Windows/OS X/Linux
Audacity is a free audio editor and recorder with an open architecture that has gained much popularity since its initial appearance in 2000. It has a wide range of post-processing features, such as normalization, trimming and fading in/out, with tutorial support in various languages. Audacity features noise reduction, vocal reduction and isolation and support for multichannel modes using sampling rates up to 96 kHz with 32 bits per sample.
Audacity has audio spectrum analysis capabilities, plus multitrack mixing and a large array of digital effects and plug-ins. However, while there is support for LV2 open standards for plug-ins, its limitations are such that it can only handle 32-bit or 64-bit VST audio effect plug-ins — not both at the same time — plus there is no support for instrument VST plug-ins. In addition, Audacity lacks dynamic equalizer controls and cannot do real-time effects while recording. It also lacks native import/export control over file formats WMA, AAC, AC3 and other proprietary formats, requiring an optional FFmpeg library to be loaded. Currently in version 2.1.2, a new release is slated for this year.
Import/export support of WAV, AIFF, MP3 (via LAME encoder), Ogg Vorbis, FLAC and all file formats supported by libsndfile library
Cassette/LPs can be converted to digital tracks by splitting the audio source into multiple tracks based on silences in the source material
Precise audio speed (tempo) adjustments while maintaining pitch for video synchronization

AVID Pro Tools
AVID Pro Tools – $25 monthly/year subscription or $30 monthly/month to month, $600 purchase
Window/ OS X
This digital audio workstation runs either as standalone software or in conjunction with a range of external analog/digital converters and internal PCI or PCIe audio cards. Sound can be recorded at up to 32-bit/192 kHz with non-destructive replacement capabilities. There is also a wide array of virtual instruments and playback of HD video and AVID DNxHD sequences are enabled right in the timeline. Pro Tools provides a built-in Timecode ruler and can record and edit voiceovers, Foley and ADR with precise frame accuracy. Also, audio mixes can be shared with Media Composer editors. Supported audio formats include WAV, AIFF, AIFC, mp3, WMA and SDII.
Newly added features include 17 advanced metering options, the ability to position clips more precisely using a translucent appearance and the ability to simultaneously play back up to 128 audio tracks, 512 instrument tracks and 512 MIDI tracks. Additionally, batch fades can be employed to speed through repetitious tasks.
Cloud collaboration
Plug-ins can be freezed to free up processing power
iPad wireless touch control
There are also two additional versions: AVID Pro Tools/First (Free) and Pro Tools/HD. First is limited in maximum simultaneous audio tracks, inputs and audio recording tracks in comparison to Pro Tools, as well as in total number of instruments and other differences. No video is available. Pro Tools/HD increases on the number of maximum simultaneous audio tracks, inputs and audio recording tracks in comparison to Pro Tools, plus other differences such as working with HDX hardware.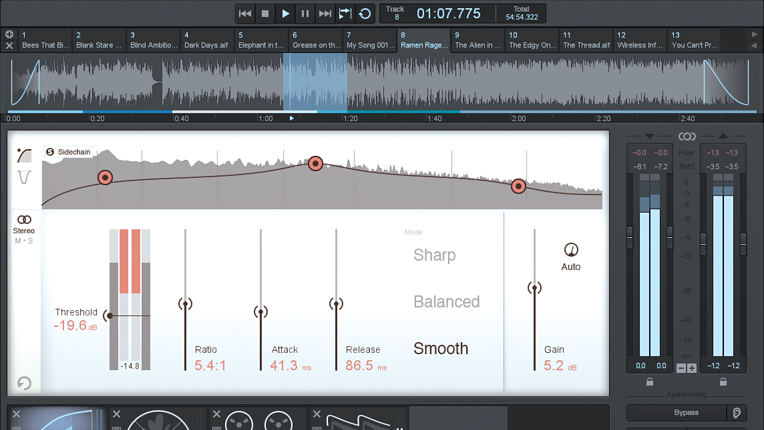 iZotope Ozone 7/Ozone 7 Advanced – $250 – $500
Windows/OS X
This plug-in provides a series of essential mastering tools for use inside of the host program or on its own. Equalization can be controlled through a Dynamic EQ that adds a multi-band compressor for replacing crossover filters with traditional EQ filter shapes. There is also a Vintage Limiter to deliver natural "feel" to harsh-sounding digital masters. The Maximizer mastering offers both frequency-specific and multi-band operation. Export file formats can be chosen from a selection of compressed and uncompressed codecs.
Ozone 7 Advanced adds additional features, such as a Vintage Tape module and Vintage EQ, Codec Preview and Intelligent Visual Metering. Additionally, all ten modules are included as separate component plug-ins and can be loaded on the instruments busses for use before going to mastering.
Exciter enhances dull recordings by adding tube grift, accentuating harmonics and adding punch and sparkle
Comprehensive bank of presets
Logic Pro X – $200
OS X
Logic Pro is distinct in that it is only for use on Apple computers. It is specialized for editing music, including vocals, and it's designed for the professional — although there is an eye towards the less savvy user. The suite provides access to the entire gamut of production from recording to editing to mixing. Both timing and tempo of a recording can be manipulated as well as pitch, and Logic Pro features Track Stacks for organizing and consolidating multiple tracks. Drum creation is available through Drum Kits for both acoustic and electronic sound along with a sample-manipulation synthesizer. Besides samples and loops, there is a very large collection of plug-ins as well as a sound library, with Smart Controls enabling sound shaping without multiple plug-in interfaces. In addition, projects created in Apple's Final Cut Pro X can be imported. This allows for viewing video so as to visually spot sound effects and identify key transitions through the automatic generation of specialized SMPTE-locked Scene Markers.
MIDI performances can be converted into notation
Full surround sound capabilities
iPad/iPhone can be used to control the software

Magix Sound Forge Pro 11
Magix Sound Forge Pro 11 – $400
Windows
Formerly a Sony product, this audio recording, editing and authoring suite is aimed at the professional and semi-professional market and provides for basic 2-track editing on up to advanced surround sound. Besides one-touch recording and precise audio editing with lock event markers and region markers, among others, there is a new Waveform Overview Bar to speed up file navigation in the Sound Forge Pro 11. There are also advanced functions such as spectral analysis and batch processing. Recordings can be scheduled on a recurring basis through an automatic time-based recording, with a comprehensive selection of native signal and effect processes plus full support for VST plug-ins and plug-in parameter automation.
There are also multiple tools available, such as for repair and restoration of the audio. Also to be found is a channel converter for down-mixing multi-channel files to stereo or mono and a Phase Scope for finding phase cancellation along with input bus effects for altering the source signal. The Event Tool is used for audio manipulation throughout the timeline and there is also the ability to create ACID loops and integrate SpectraLayers Pro 2 editing into projects.
Support for up to 32 channel 64bit/192kHz audio
Onboard native Noise Reduction plug-ins
Nugen Audio Visualizer -$190
Windows/OS X
Nugen Audio's graphical analysis plug-in works on the principle that listening isn't enough when it comes to looking deep within a mix. The plug-in can help identify problem areas and is able to display multiple graphical representations of an audio track within a single window while allowing for each individual display to be isolated for control. These controls include frequency zoom and scroll, dB zoom and scroll, peak hold control and color selection among others. The plug-in also provides 9 different analysis tools, such as a spectrogram, stereo spectrogram, vector scope, stereo bias meter, FFT spectrum analysis, stereo spectrum analysis, stereoscope, correlation meter and the stats and parameters module. In addition, there is a resizable interface and the ability to compare changes with A/B snapshots. It is compatible with VST and AU plug-in hosts.
Room's acoustical character can be analyzed
Pink Noise Signal Generator
SmartSound SonicFire Pro 6 – $200
Windows/OS X
This soundtrack scoring program integrates the timeline, store and search functions together in one screen using a streamlined interface. A series of tools are provided for customizing the audio, including timing control and mood mapping for instrument mix changing. Music tracks can be customized to any length and alternate arrangements created instantly. Percussive and production element accents can also be instantly added at any point in a video. Video can also be cut to an existing music track.
Royalty free music clips included
NLE support
Integrated search tools
Sidebar:
PLUG-INS VERSUS STAND-ALONE SOFTWARE
The existence of plug-ins has been necessitated by the increasing sophistication of users looking for greater control over program functions. Once a computer software program has been designed and made available, it's locked as to the features and services it provides — at least until the next update. The program may contain plug-ins as part of its feature set, but there could be additional functions that are not included in the software package for reasons of licensing costs or size restrictions or other considerations.
Previously, the only method for adding to a program's existing features was to rewrite at least portions of the program — making it available either as an update that must be installed or a newer version to purchase entirely. Instead, being able to install a plug-in to an existing program eliminates these issues since the plug-in can be purchased separately on a need-to-use basis. Provided that the software program has been constructed with the necessary hooks, the user just needs to purchase the plug-in, making sure that it is compatible with the host program that it will be used with. The plug-in is then integrated into the software program and accessed as if it had been originally included. Plug-ins allow a compatible program to be opened to any number of third party developers and add to the creative toolbox for the user.
Marshal M. Rosenthal is a West Coast-based technology and consumer electronics freelance writer