These days, almost every video or film project will contain handheld shots. The classic handheld shot always stands out due to the shaking of the camera. These types of shots can be great in scenes with a faster pace or some form of action in it. However, many cinematographers might want to follow an actor or have the camera moving while keeping the shot stable. In some cases, a dolly rig or track can be used but if there are budget issues or location difficulties, a handheld stabilizer will come into play for amazingly fluid gliding effects. Handheld stabilizers allow the camera operator to walk around freely while keeping the shot stable.
One or two hands?
There are two types of stabilizer that a cinematographer should consider, a one-handed stabilizer or a two-handed stabilizer. The difference between them is in the name; one involves the user holding it with one hand and the other with two. The reason they differ like this is due to their sizes. One-handed stabilizers are designed for smaller camera setups with fewer accessories and therefore work better in tighter locations. So if you want to follow your talent through a small hallway or around a small room, a one-handed stabilizer will be perfect for you.
One-handed options
Came-TV produces the CAME-Single 3 Axis Gimbal that works perfectly for smaller location shoots. At $940, it's designed for mirrorless cameras such as the Panasonic GH4, Sony A7s, and the BlackMagic Pocket Cinema Cameras. Its tool-less design allows the user to easily balance the system, and the quick release camera plate also makes swapping out the camera or changing its batteries much easier. It also means less time re-balancing the gimbal.
One feature that comes in very useful with this gimbal is the joystick control fitted on the side of the pistol grip to allow users to control the camera positions as well as change the modes of the gimbal.  A ¼"-20 thread mount on the side of the handle supports an additional monitor that might be used when filming. CAME has also designed attachable dual gimbal handles that can convert the Single 3 Axis into a two handed stabilizer. However due to the small design of this stabilizer it is limited in the amount of weight it can hold, with a maximum payload of 1.2 kilograms, this means that only small cameras with little to no additional equipment can be used.
There are other one-handed stabilizers that can take a slightly heavier payload, like the Zhiyun Crane. It can handle a payload of up to 1.8kg and can work with larger mirrorless cameras and larger lenses. However, unlike the above mentioned Came Single, this stabilizer gives users the ability to control the pan and tilt of the gimbal wirelessly through the use of a mobile app. It has a thumbscrew design for tool-less adjustments and quick balancing. The handle has a built-in rotational joystick that also allows switching between pan following mode, locking mode, & pan + tilt following mode.
The Zhiyun Crane has also been cleverly designed with a three axis movement system to give users the ability to rotate their camera a full 360 degrees to be able to cover any angle they want.  At a price of $740, it's an approachable way to get stable shots if you can't afford a larger stabilizer.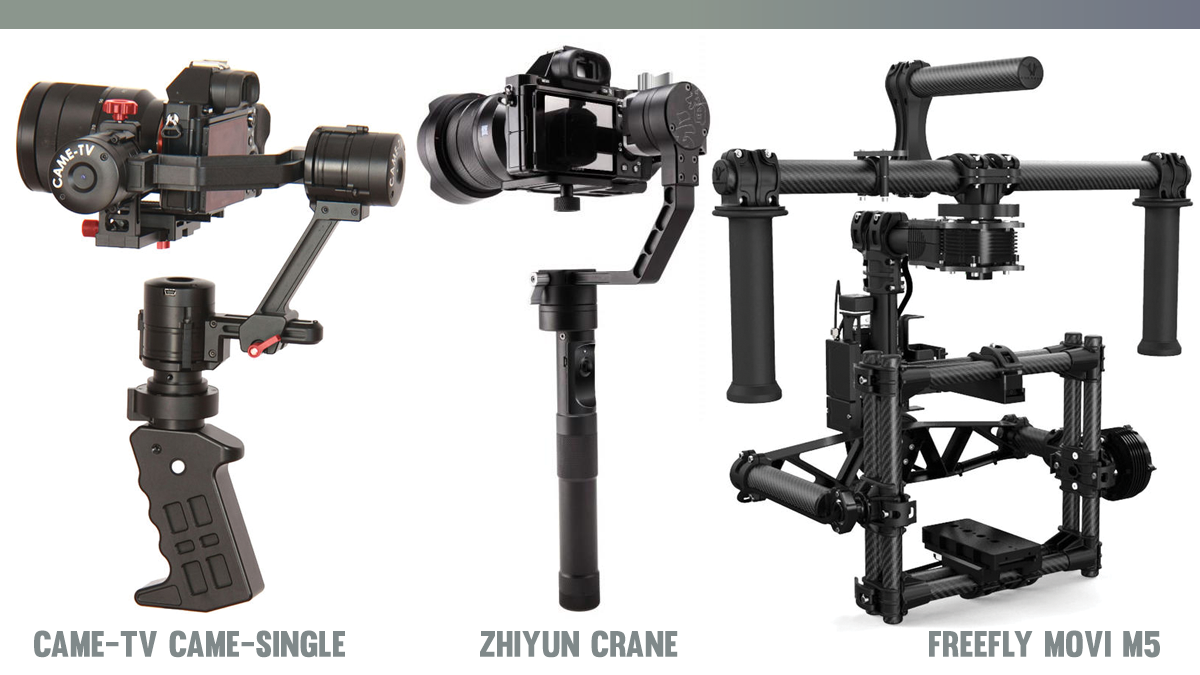 Two-handed options
If your budget stands a little higher, you can look into buying a larger two-handed stabilizer. These are built to hold much larger setups with heavier payloads. Two-handed gimbal stabilizers are becoming a regular occurrence on the sets of many productions, whether they are small short films or features.
One brand that has become a leader in two handed stabilizers is Freefly Systems. Their Freefly MoVI M5 is a popular choice among cinematographers due to the fact that it can support cameras up to 2.27 kilograms and can be set up easily.  Freefly is well-known for industry leading stability that delivers smooth filming in demanding situations, such as on the back of a moving vehicle or in high winds.  An advantage to a stabilizer like this is that it is designed to hold several additional shooting accessories, such as a monitor, microphone mount or even a small light on its dual gimbal handles. Being able to carry a camera with attachments like these and maintain a stable shot can be very useful for a production as it means less people have to be moving around the scene and the shot can be done easier.
Freefly is well-known for industry leading stability that delivers smooth filming in demanding situations, such as on the back of a moving vehicle or in high winds.
The Freefly MoVI M5 has a simplified fully tool-less balancing system for quick and easy balancing, and once it's balanced it can be switched to an inverted mode for a more comfortable eye-level camera angle. It also has a quick release plate that allows the user to change out the camera quickly and with ease. At a cost of $2,695, this is quite an affordable piece of gear for a production that wishes to bring big budget camera moves to their project.
However, if that price is a little high for you, you can always look towards the DJI Ronin MX, which comes in at $1,600 and can support a wide range of cameras, including professional cameras such as the RED EPIC or the ARRI Alexa Mini. Just like the Freefly stabilizer, DJI has designed their Ronin MX for smooth filming in demanding situations, and just like the Freefly stabilizer it can be mounted on various rigs in different positions to get the best shot. Its design means that setup takes only five minutes and the professional 3-axis design allows for effortless handheld shooting.
The Ronin MX has also been designed with three modes of operation, upright, underslung and briefcase, which allow the user to get the shot from almost any angle or position. It can take a maximum payload of 7.25 kilograms, which makes it more appealing for some cinematographers as they can add additional accessories to their rig. Another plus side to the Ronin MX is that it comes with a remote that controls the gimbal movements, switches the work modes and allows the user to select the the gimbal system.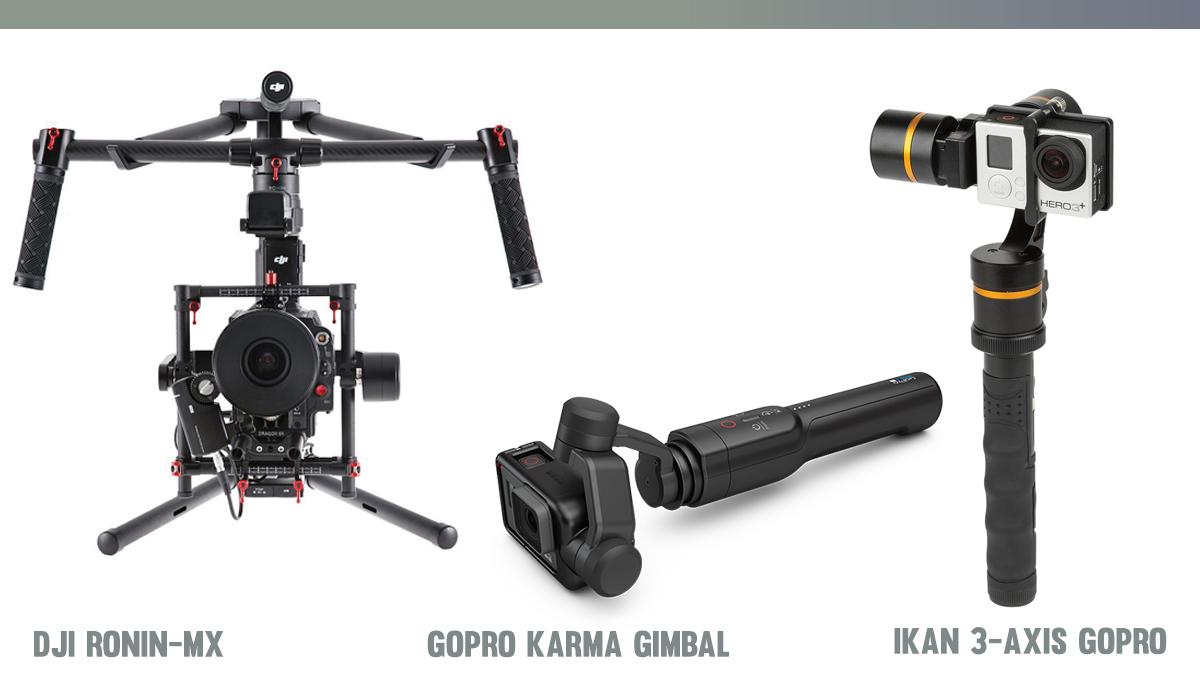 Stabilizing the action
All of the stabilizers mentioned so far are great for large productions with bigger cameras, but what if you make action videos with GoPros or other action cams? There's no need to worry because GoPro has produced their own gimbal stabilizer. The GoPro Karma comes in at a price of $300 and is compatible with the GoPro HERO5 Black, HERO4 Black and Silver, and the HERO5 Session with an adapter to be released in summer 2017. This small and versatile stabilizer is perfect for stable action shots on the go. It not only acts as a handheld gimbal stabilizer; it can also be mounted on the wide range of harnesses and mounts that GoPro provides for the Karma grip. This means that if you want to use a chest harness to get your stablized shot, or mount it to the side of a vehicle, you won't be left wondering how to do it. Another appealing ability that this stabilizer has is that the gimbal attachment can be taken off and mounted to the GoPro Karma Drone. This puts the Karma stabilizer at the top of the list for action video makers because they can go from a stable handheld shot to a stable aerial shot with ease.
Ikan offers another option with their 3-Axis GoPro Gimbal Stabilizer. At a price of $330, it comes pre-programmed and ready to use out of the box. It has optional hand control or a remote for controlling the gimbal head and operational modes. It has a built in 5-way control pad that offers complete control of the pan and tilt of the gimbal head along with selecting the different modes. In addition to these features, it has a 1.5 meter control cable in case you might want to mount the stabilizer at a distance. Ikan has designed this stabilizer to fit existing GoPro fork mounts, which means you have a wide range of mounting options for your shots.
You don't always need a motor
In the world of handheld stabilizers, one name that comes to mind for many video producers is Glidecam. For years Glidecam has been providing some of the best handheld stabilizers, supporting anything from small DSLR cameras to larger cinema cameras. Their Glidecam XR – Pro, at a price of $290, is designed to hold cameras weighing up to 4.53 kilograms, such as the Canon C100. It comes with a dynamic mounting and balancing system that allows you to easily attach your camera and quickly balance it for smooth performance. Its 3-axis handle design means you can pan, tilt, boom or run without any camera instability. The mounting plate has ¼ inch and ⅜ inch mounting holes for different camera types, and it can also support a tripod head for easier mounting and removing of the camera.
If you have a larger budget and are expecting a longer day of shooting, you should probably consider the Steadicam AERO 30 system for your production. At $5,250, this stabilizer brings the full professional package to your production. With a 7-inch HD/HDMI monitor to connect your camera to, a maximum payload of 9kg, and a Zephyr Vest and Arm to help you avoid fatigue while shooting, this stabilizer really stands out. Being able to use the system for longer hours with the vest and arm means that you can get more shots done in a day and the monitor display means that the camera can be wherever the cinematographer feels comfortable holding it while still being able to see what is in shot.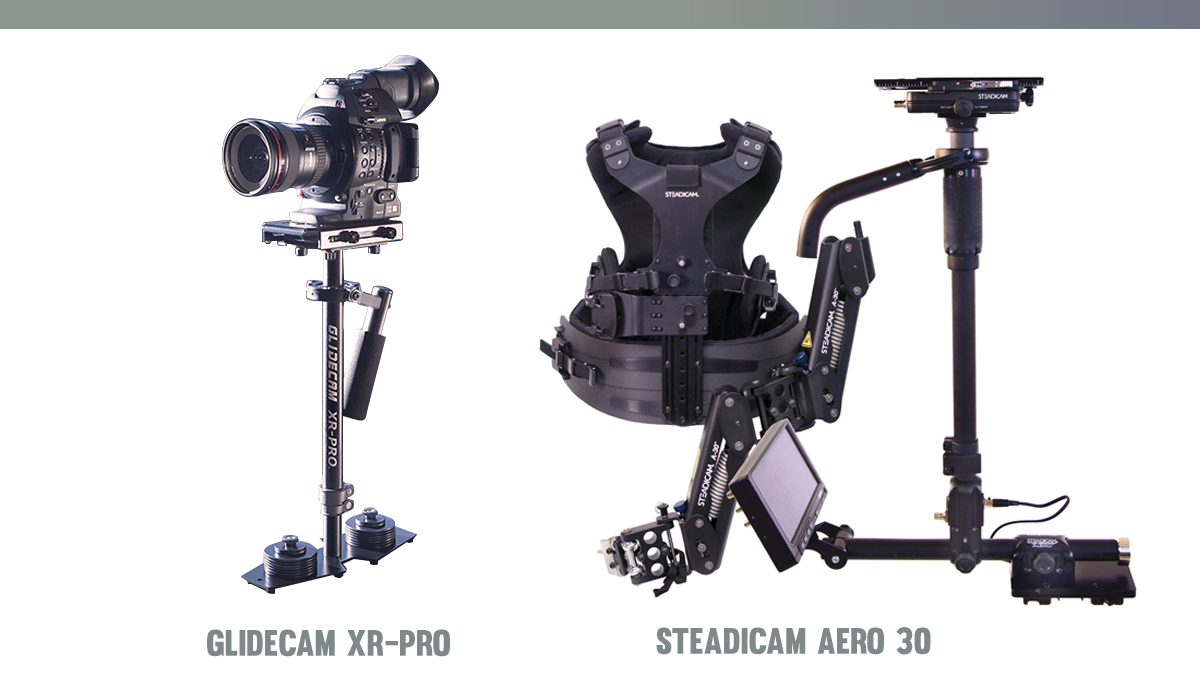 Final thoughts
Handheld stabilizers offer the ability to move your camera in almost any way you want with ease while keeping the shot stable. There are many different types of stabilizers to fit all kinds of productions and budgets. Whether you are shooting a high-end production or a small action video, you will hopefully be able to confidently choose the right stabilizer for you.
Sidebar: What are axes?
During this article you will have seen the term "3-Axis" used at various points, but no need to worry if you don't know what that means because it's quite simple. The term Axis refers to the line of which a body or object rotates, and gimbals that are 3-axis rotate along three lines, an X axis, a Y axis, and the Z axis. The way stabilizers incorporate this is by allowing the camera to be fixed on the center of these axis, this is where the camera plate is located, and the gimbal handles rotate around it on the three different axis while the camera stays still. Motorized gimbals are able to do this especially well due to the fact that the electronic motors they use respond at the same speed as the movement of the handles, therefore keeping the camera stable.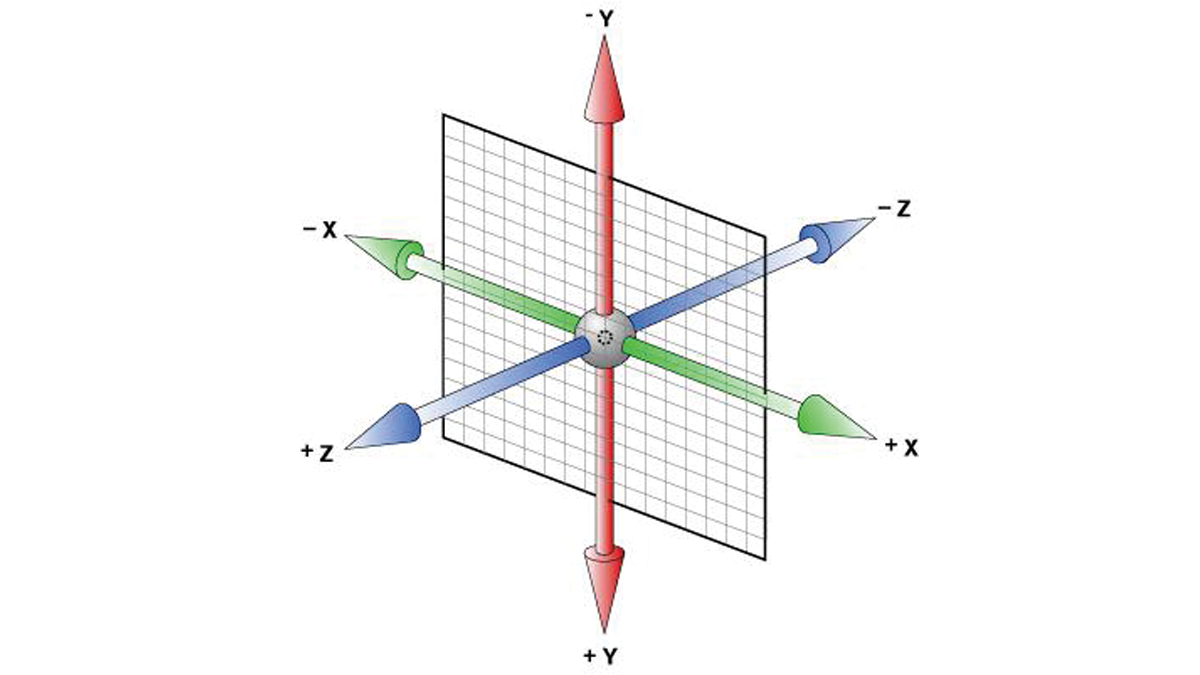 Manufacturer list
BC Media Inc.
www.proamusa.com
Big Balance
www.bigbalance.com
Came-TV
www.came-tv.com
Camera Motion Research
www.camotionllc.com
DEFY
www.defywithus.com
DJI
www.dji.com
Feiyu-Tech
www.feiyu-tech.com
Freefly Systems
www.freeflysystems.com
Glide Gear
www.glidegear.net
Glidecam Industries
www.glidecam.com
GoPro
www.gopro.com
IKAN
www.ikancorp.com
Letus35
www.letus35.com
Polaroid
www.polaroid.com
Shape
www.shapewlb.com
Steadicam
www.steadicam.com
VariZoom
www.varizoom.com
Zhiyun
www.zhiyun-tech.com
Having worked on various types of projects with many different setups, Antonio has the knowledge and experience needed to give you a clear idea of what gear is best for you and how you can use it to make your production go from good to great!