The first factor is your shooting style and production needs: Are you looking for a super-stable drone capable of supporting the best available camera, or do you need something light and portable that you can pack with you on your next adventure? The answer will help steer you towards or away from particular brands and product lines.
The second factor, sometimes at odds with the first, is of course your budget. The perfect drone for you sits at the point where these two considerations intersect. We'll help you find it.
Right Features, Right Price
Once you determine the shooting styles you'll need your drone to accomodate, you can start balancing the features you want with the price tag you can afford.
One of the most obvious choices you'll confront is number of rotors. Most drones designed for video production today are equipped with four rotors and are therefore labeled quadcopters. Hexacopters, or drones with six rotors, are also available, though less common.
Hexacopters are typically able to travel higher and faster, carry a larger payload and provide additional safety and stability over their quadcopter counterparts. This makes hexacopters a better choice if you plan to fly heavier or more expensive cameras. However, they also typically cost more, are larger and more difficult to transport and can cost more to repair.
You'll also want to consider whether or not you need retractable landing gear. This will affect how wide your field of view can be and how far you can rotate the camera before the drone interferes with your shot. More and more affordable drones now feature retractable landing gear, but depending on the shots you plan to capture with your drone, this may be higher or lower on your wish list. Likewise, you'll also need to look at the gimbal, if one is included, and how far it can rotate. A good gimbal will allow more flexibility in the air and provide a smooth, vibration-free image.
A good gimbal will allow more flexibility in the air and provide a smooth, vibration-free image.
Additionally, before making your final decision, try to predict any extra expenses that may pop up before your drone is truly ready to fly. Look at the controller; is a monitor built-in or will you need to provide one? Are you ok with using your phone as a live monitor and potentially draining your battery? Consider the anticipated flight time per battery. How much does an extra battery cost? How long will you need to be in the air? These are the questions to answer before making a final purchasing decision.
Camera Considerations
Many more drones now offer built-in cameras designed specifically to work with a particular drone, but there are still plenty of options if you prefer to send up a camera you already own. Again, let your shooting style and production needs be your guide here. Keep in mind however, the more options you need in terms of resolution, frame rates and exposure controls, the more you are likely to pay.
On the Market
New drones come onto the market all the time, but let's look at a few recent highlights you should be aware of as you shop.
GoPro Karma ($800)
The highly anticipated GoPro Karma targets adventure enthusiasts. This folding quadcopter also includes a detachable gimbal, adding to the GoPro ecosystem and giving you more flexibility. The Karma Controller includes a built-in screen, and the drone's battery is reported to provide about 20 minutes of flight. The $800 price tag does not include a camera, but Karma is compatible with the HERO5 Black, HERO5 Session and the HERO4 Silver.
DJI Mavic Pro ($1,000)
Announced almost simultaneously with the GoPro Karma, the Mavic Pro is brand new to the DJI lineup. Targeting a similar user to the Karma, the Mavic's most compelling feature may be its ability to fold down small enough to literally fit in a largish pocket. This highly portable quadcopter comes with a fully stabilized 4K camera and promises flight times up to 27 minutes. The small controller features both a built-in screen for monitoring essential flight information and a mount for a phone for live view monitoring. Obstacle avoidance, ActiveTrack and TapFly along with sensor redundancy make the Mavic especially appealing to those looking for a drone that makes it easy to capture high-quality video.
DJI Phantom 4 ($1,400)
Stepping up in the DJI lineup, the Phantom 4 is the latest quadcopter in the Phantom line. Along with a built-in gimbal and 4K camera, the Phantom 4 also features obstacles avoidance, ActiveTrack and TapFly flight modes. A plethora of sensors provide redundancy to ensure safe flight, and expected flight time per battery is about 28 minutes. The Phantom 4 could be a good option if you're looking for professional image quality from a smaller drone.
DJI Inspire 1 V2.0 ($3,100)
This quadcopter from DJI provides all the features a professional might need while still offering an easy to fly solution for cinematographers who just want great image quality. A newly designed Zenmuse X3 4K camera paired with a 3-axis 360-degree rotating gimbal provides clean and clear images, or take advantage of the Zemuse interchangeable camera system to mount an X5 camera for added image quality. Vision Positioning technology allows for GPS-free indoor flight, and flight times are estimated at around 18 minutes.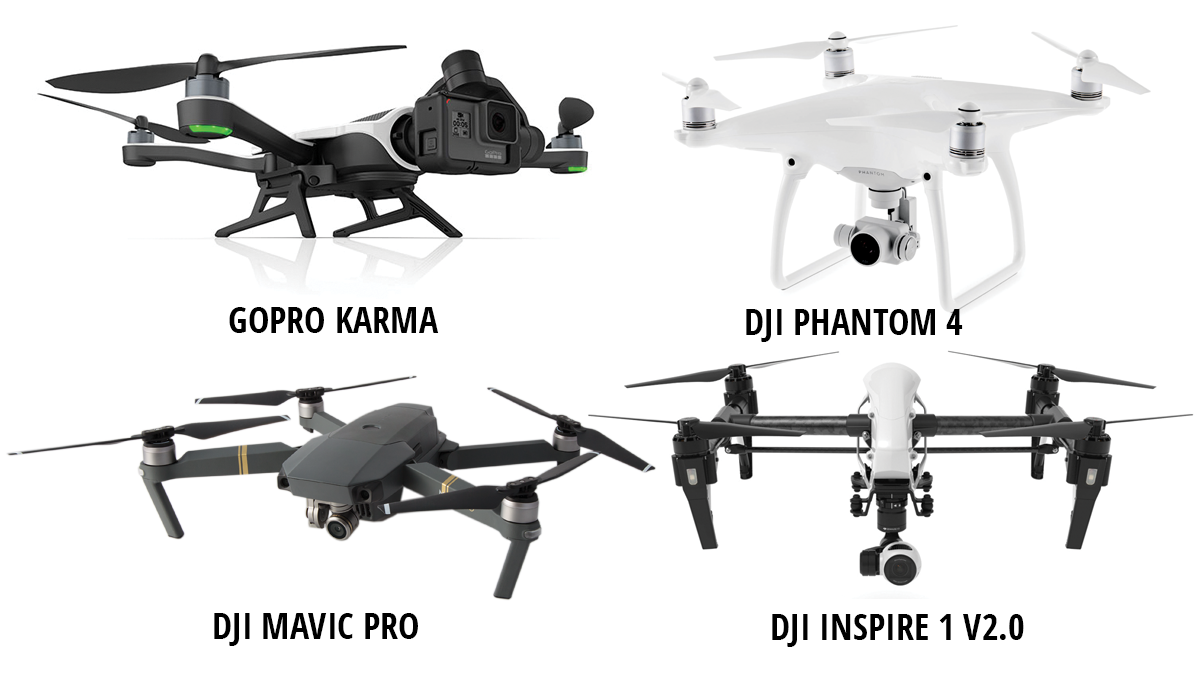 3DR Solo ($800)
3DR prides the Solo on its future-proof design, meaning the drone company hasn't released a new model since the Solo was launched, instead opting to push firmware updates to users when new features are introduced. This quadcopter features a rigid, modular design and was one of the first to pioneer smart flight modes, controlled through the 3DR Solo app. Like other controllers, the Solo controller uses a mobile device as a monitor. Battery life is expected to provide up to 20 minutes of flight. The Solo does not include a built-in camera but instead supports GoPros up to the HERO4.
Yuneec Typhoon H ($1, 300)
Despite our troubling initial experience with this drone, the Yuneec Typhoon H is still worth a look because of its innovative design. Retractable landing gear and a 3-axis anti-vibration gimbal capable of unlimited 360-degree rotation means that the camera's 98-degree field of view remains unobstructed. An all-in-one controller adds bulk, but the built-in screen is nice when you don't want to dedicate your phone or tablet to monitoring your flight. The battery is said to offer up to 25 minutes of flight, and when you're ready to pack up, the drone's propellor arms fold down to make it more portable. This hexacopter features intelligent task modes for automated flight and smart collision avoidance along with a built-in 4K camera and Intel RealSense technology for an additional cost.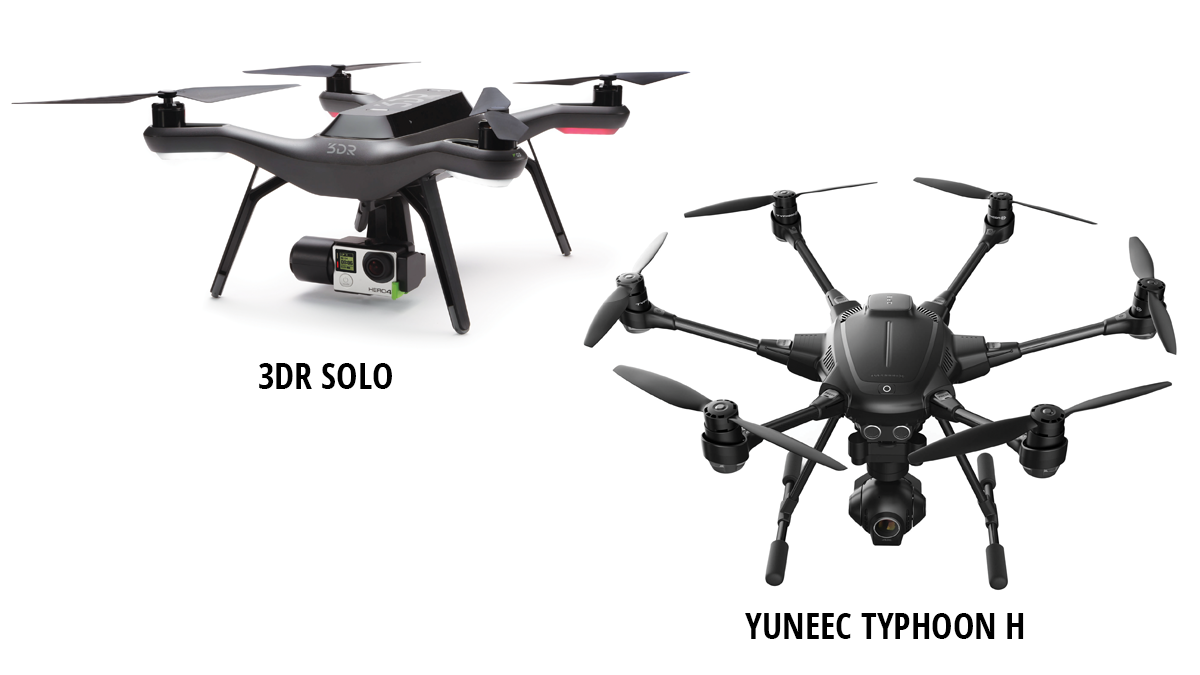 Yuneec Breeze 4K ($500)
For a smaller option, you might also consider the Yuneec Breeze, dubbed by some as the 4K selfie drone. This quadcopter is on the small side at less than eight inches by eight inches, but it's packed with features like a built-in 4K camera and automated flight modes. The Breeze is controlled solely using your phone and expected flight time per charge is around 12 minutes. Less sophisticated than its big brothers in the Typhoon line, the Breeze could a good option if you're looking for a simple and affordable way to capture some 4K aerial footage.
Autel X-Star Premium ($900)
For another easy to fly quadcopter option, check out the Autel X-Star Premium. Equipped with a 4K camera and stabilizing gimbal, this drone also features intelligent flight modes and autopilot functions along with the Starpoint Positioning System to ensure easy and safe flight. A beginner mode allows novice pilots to learn the aircraft, while the Starlink app allows for camera adjustment and HD live view. Flight time is estimated at up to 25 minutes.
Parrot BEBOP 2 FPV ($700)
In addition to the Parrot BEBOP 2 drone, this kit also includes the Parrot Skycontroller 3 and the Parrot Cockpitglasses for an immersive first person view of your flight. The body-mounted camera records in full 1080p HD and flight times are estimated at around 25 minutes per battery. This drone could be a great option if you want a simple drone that offers a unique first person flying experience.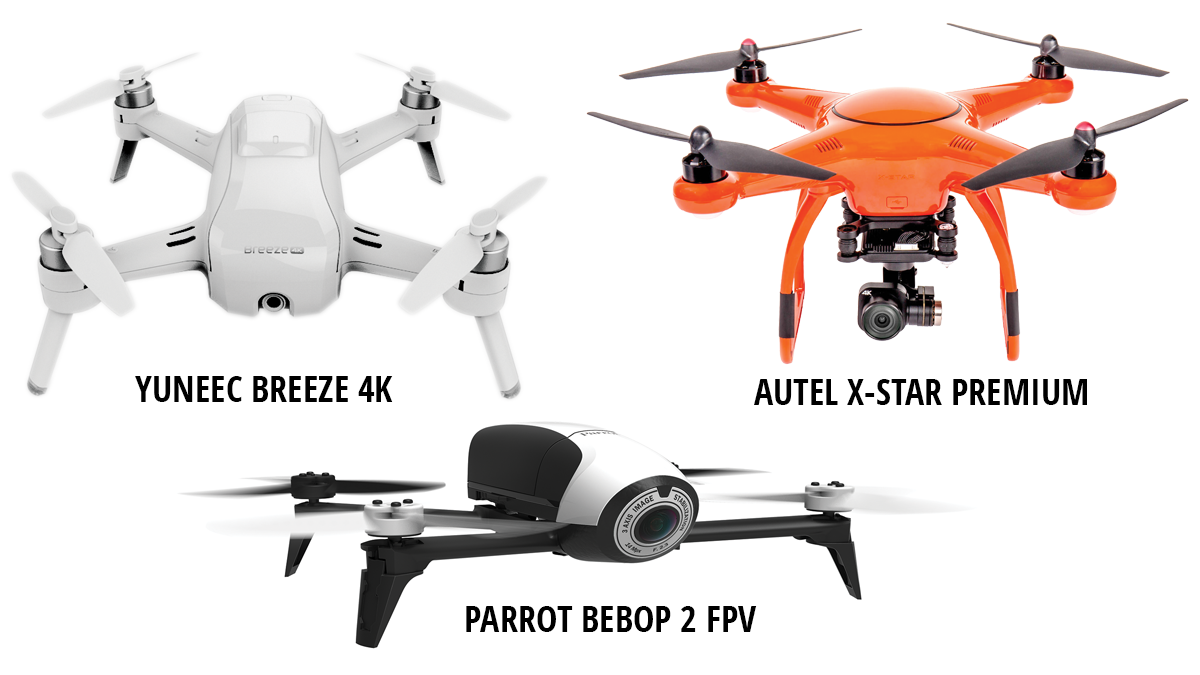 Fit for Flight
With so many option, it helps to narrow down your search criteria. As you search out your new drone, keep in mind both your production needs and your budget. There are plenty of drones to choose from at a variety at price points, so be sure to select one that fits your production style — whether you need a drone to follow you down a hiking trail or one that will bring back high quality cinematic images.
Nicole recommends flying in a hot air balloon for a truly stunning aerial perspective. She is also Videomaker's Managing Editor.