The HP EliteBook 8760w is HP's current top of the line mobile workstation. The base cost for the quad core model is $2,099 and $1899 for the dual core models. The HP 8760w we received has all the bells and whistles that HP currently offers, showcasing the raw power that these workstations are capable of.
What's it Made of?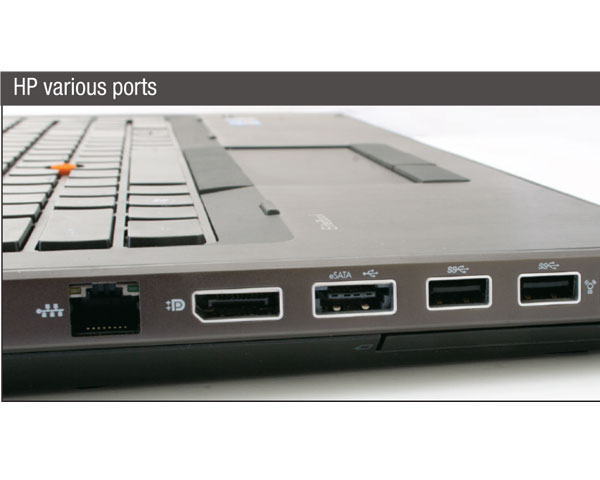 The 8760w has a nice clean brushed metal look and a relatively seamless design with a screwless removable under panel allowing easy access to the hard drive, memory, and optional add-in cards. All the I/O ports, like USB, are conveniently labeled and located. The illuminated keyboard makes typing in the dark easy. The unit even comes standard with a fingerprint reader for quick and secure logins. The biggest design drawback is the large three-button mouse pad; finding the right-click can take some getting used to.
Internally, the workstation has all the latest and greatest hardware. The CPU is a quad core Intel Core i7 2820QM 2.3ghz capable of 3.4ghz on turbo boost. But with the four physical cores and eight hyper-threaded cores the turbo boost isn't really needed. The workstation comes with 16GB of DDR3 1333 RAM. Now the question is: how many 1080p videos can you have open at once to use it all? The new NVIDIA Quadro 5010M comes with 4GB of memory and has 384 CUDA cores. Only a couple other graphics cards even have 4GB of memory. For data storage there are two 320GB 7200 rpm Seagate drives, which is one of the least impressive components and this creates a bit of a performance bottleneck. The workstation supports many types of media and has lots of plugs to support various devices like: two USB 2.0, two USB 3.0, DisplayPort, eSATA, FireWire, VGA, Blu-ray, DVD, and even a SD/MMC memory card reader. You can view it all on a 17.3″ LED backlit DreamColor HP FHD. The LCD comes with an optional HDintegrated webcam, so you can shoot video from your workstation!
DreamColor
One of the features this workstation boasts over other workstations is HP DreamColor technology. The major difference between a standard LCD and an HP DreamColor LCD is the LED RGB backlight. What this means is on top of the color range the LCD can display, the backlight can be adjusted to provide more accurate color. The HP Mobile Display Assistant 2.0 lets you select preset color ranges like AdobeRGB, sRGB, Full/Native, etc. There is even a setting to adjust the color temperature. For the average user this isn't a huge advantage. For a video/image editor, accurate color can be a big deal. Attempting to configure a standard LCD to look the same as a printed image can be a major ordeal and true representation can rarely be achieved. The goal of DreamColor is to eliminate this; the image seen on the LCD is close to the image seen when printed or on the TV. In short, the DreamColor LCD is brighter and has custom adjustments for more accurate color. The other advantage to having an LED backlight is it consumes less power, which in turn increases battery life. The DreamColor LCD option is an additional $800 versus the standard 1080p LCD option.
Battery Life
In tests of real world battery life, the workstation was able to run for two hours at 100 percent charge. Longer battery life could be achieved by turning the monitor brightness down. While the workstation is running under a heavy load, the battery life may decrease to one hour. During normal use the workstation is quiet; under a heavy load there is considerable fan noise. Considering this laptop has four cores and a high power NVIDIA Quadro, the battery life is decent.
Performance
The 8760w comes with two internal hard drives. This unit was configured with two 320GB Seagate hard drives, but larger drives are available. The hard drives had an average read of 75.3 MB/s and an average write of 66.6 MB/s. A standard full size hard drive can achieve speeds of 100 MB/s and an SSD can achieve speeds of 250 MB/s. The internal drives are acceptable for rendering video, but having an external full size USB 3.0 or eSATA drive will help decrease render times and allow increased storage space.
The Windows Experience Index base score was 5.9 with the hard drive being the bottleneck. The graphics card, CPU, and memory were all around 7.5 which is comparable to most full size desktops that we have reviewed. The highest windows experience score is 7.9, making this workstation close to achieving the maximum score possible.
The SpecViewPerf11 scores were the best of the other computers we recently reviewed. . Using the MAYA rendering engine, this workstation was five times faster than previously tested computers. This is all mainly due to the new NVIDIA Quadro 5010M that comes equipped in this workstation. Without a doubt the 8760w with the new Quadro will beat most desktops when it comes to 3D modeling.
The 3DMark Vantage base score was P12080 and CPU score was 20457 using the performance setting on version 1.1 of 3DMark Vantage. In comparison to other HP computers we have reviewed, the CPU performance is very similar. The main difference being the new Quadro 5010M boosted the overall score by 5000. In other words, this workstation can handle gaming too! Want to know for yourself how this computer ranks? You can view 3DMark rankings anytime by going to 3dmark.com.
Should I Buy This?
This computer has it all and the price tag reflects that. If you can afford it then buy it, you won't be disappointed. If this particular setup doesn't meet your budget, subtracting a few of the more expensive add-ons will make the price more reasonable. Unless you are doing 3D modeling there is no need to purchase the NVIDIA Quadro 5010M. The Mercury Playback Engine in Premiere Pro 5.5 will boost render times considerably with the Quadro 5010M, but whether that is worth the money is a personal choice. DreamColor is a nice feature to have, but you don't need it. What it all boils down to is HP offers workstations for all budgets.
Tech Specs
AVG HHD Read/Write: 75.3 MB/s / 66.6 MB/s

Drives: 2 x 320GB Seagate 7200rpm

LAN: 1 x 1000Mb/s (125MB/s)

CPU: Intel Quad Core i7-2820QM 2.3GHz

RAM: 16GB DDR3 1333

OS: Windows 7 64-bit

Video: NVIDIA Quadro 5010M

Audio: 2 Channel IDT HD Audio

Chipset: Mobile Intel QM67

Power Supply: 230W AC Adapter, 8-cell (83 Wh) Lithium-Ion battery

Available I/O: DisplayPort, VGA, Bluetooth, eSATA, USB2.0/3.0, FireWire 400, Blu-ray/DVD/CD, SD/MMC

Weight: Approx. 7.66lbs

Warranty: 3 year standard parts and labor
Strengths
Nice Design
Light-up Keyboard
Vibrant 1080P LCD with DreamColor
Fast 3D Rendering
Many available I/O ports
Weaknesses
Expensive
Middle mouse button
Loud Fan on Full Load
Summary
HP delivers up yet another fast mobile workstation with the EliteBook 8760w.
Hewlett-Packard Company

www.hp.com

Price: $6,123 – as configured
Lance Olinger is an IT Professional and Web Developer.