What does one get for the video producer that has everything? Why, the latest and greatest of course. Innovation in the world of video is a never-ending beast and you can be sure that a plethora of new goodies has appeared on the market throughout the year. We'll take a look at some of the newcomers, and a few of the oldies that are sure to put a smile on your favorite video producer's face. We'll have a look also, at a few items that are especially well suited for stuffing those eagerly awaiting stockings hanging from the mantel.
Camera
Of course, the foundation of all video capture is a camera of some sort. And, while it probably wouldn't be prudent to surprise your loved one with a major camera purchase without first knowing exactly what his or her needs are beforehand, there are a few video capture devices that no video enthusiast could possibly be disappointed with.
Advertisement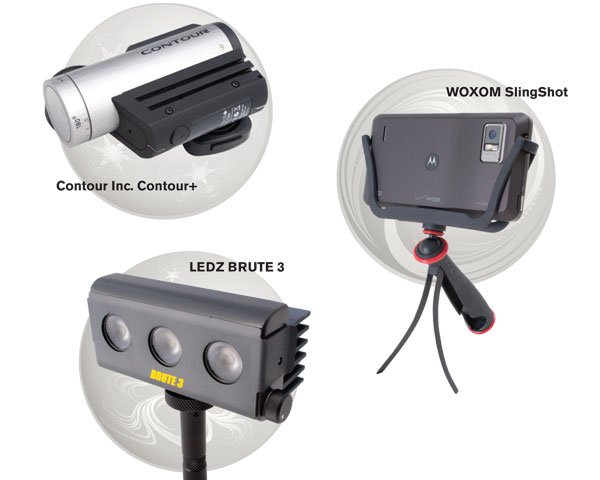 For oodles of production value, a small, action sports-oriented camera such as GoPro's HD HERO2 or the Contour series from Contour Inc. will serve nicely. These cameras can be attached to just about anything and anywhere, for some extremely interesting shots you just can't get with other cameras. Attach one to a motorcycle or race car for exciting action shots and heart pounding speed, or to your favorite remote control flying machine for awesome aerials, or float it overhead with controlled bundles of helium balloons. The sky is the limit, with your imagination the only limitation.
For the less mobile, the Live! Cam Connect HD webcam by Creative Technology, is Skype-certified with its own onboard video processor and built-in noise canceling microphone for smooth, 720p, full-screen HD quality video chats. For about 50 bucks more, the Logitech HD Pro Webcam C920 lets you Skype in full HD 1080p HD quality.
Support
Larger cameras are great for handheld shots up to a point but can get a little wearisome over time, so a little added support is in order. The Tamrac TR404 ZipShot Mini Tripod supports camera and accessories up to three pounds and sets up in a snap. Constructed with aluminum legs and shock cords, it is similar to modern tent poles, the ZipShot Mini goes up to a maximum height of 28-inches and folds down to a very compact nine. The Sniper 1080 KS from Camtrol uses three variable locking ball joints to achieve a high degree of versatility and converts quickly for high, medium or low-level shooting.
VariZoom and Cinevate have numerous options for DSLR users, from simple handheld rigs to full-on pro rigs complete with matte box and follow focus. Not willing to leave any video device behind, the SlingShot, by WOXOM, is designed to add stability to any smartphone. With a ball mount adjustment and a pair of legs that fold out of the handle, the SlingShot functions as a tabletop tripod. In addition, the cradle unscrews and attaches to any standard tripod for complete stability. For those larger, heavier camcorders, remember to check out the more traditional, fluid head equipped tripods by Manfrotto.
If your video enthusiast is ready to move beyond the typical panning and tilting moves, the AIRjib by indiSYSTEM is an affordable, highly portable jib arm, that is easy to set up for capturing those awesome boom shots. Great for bringing to remote locations, the AIRjib has an attachment for using two-liter bottles for counter weights. For slightly different moves, Cinevate's Atlas 10 is an easy to set up slider dolly, with ball bearing tracking and counter balance system, which lets you achieve smooth moves both horizontally and vertically.
How's It Sound?
With the sad state of small camera audio affairs, it's little wonder that most camcorders and DSLRs need help in the sound department. Digital audio field recorders such as the Roland Corporation R-26 fill the gap very nicely. With three stereo mics, the R-26 can record as many as six channels of excellent quality audio to SD/SDHC media cards. XLR/TRS combo inputs, with phantom power, allow you to plug in professional external mics as well. For the more budget minded, the H1 Handy Recorder from Zoom employs an X/Y stereo mic to record fabulous sound to micro SD/SDHC cards. For professional XLR shotgun mics, browse the offerings of companies like Sennheiser, Azden and Rode for a broad array of options and pricing.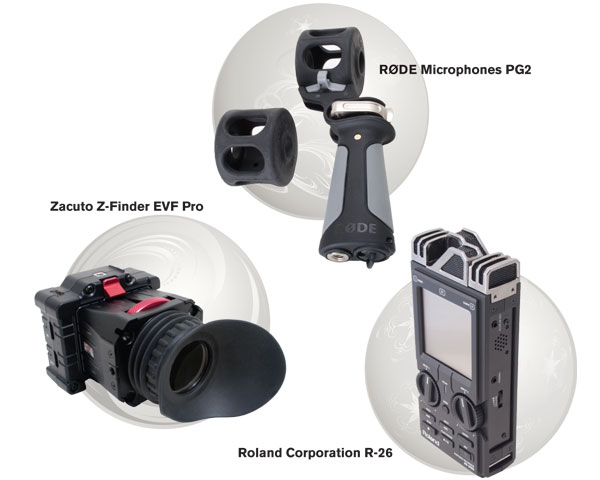 To get your mic off the camera and close to your talent check out K-TEk's KE-89CC Avalon Series aluminum boom pole with internal coiled XLR cable. It's sturdy, lightweight and extends to heights greater than seven feet to get your mic right where you want it. Alternatively, you might consider the PG2, pistol grip shock mount, by RØDE Microphones. Use it handheld or attach it to a boom pole to suppress handling noise.
For studio recording, podcasting, or to record voice overs directly into your editing timeline, check out the ATR2100-USB mic from Audio-Technica. With USB connectivity, wide frequency response and dynamic range, the ATR2100-USB delivers. And, don't forget to use a pop filter whenever the talent is up close and personal with the mic. The Shure PS-6 pop filter uses a 6-inch, 4-layer screen, to tame those pesky plosives and comes with an adjustable gooseneck and mic stand clamp.
Be sure to monitor the audio also, as it's being recorded, in order to catch potential problems. The Sony MDR-7506 professional headphones are ideal for this work and are invaluable for monitoring audio in the field. Low impedance and an around-the-ear design provides plenty of volume while cutting out potentially distracting background noises. A pair of quality speakers next to the computer is essential for hearing them just as the audience will and allow you to get a good read on edits. The AV 40 Active 2-Way desktop monitor speakers, from M-Audio, deliver high-quality audio with 15W of power to each channel. A number of inputs ensure compatibility with a variety of devices.
How's It Look?
Many of today's smaller cameras are capable of capturing superb video but fail to provide proper display and monitoring capabilities. They are often too small, too exposed to glare and lack professional focusing and exposure control features. The Z-Finder EVF Pro by Zacuto provides a great solution to these problems for DSLR users. It's a 3.2-inch high-res monitor used in conjunction with a 2.5x optical viewfinder and light-excluding eyecup. It features two-level Zebras for exposure assistance as well as peaking and pixel-to-pixel zoom for precise focusing.
External monitors from Marshall Electronics and ikan can mount to the camera's accessory shoe for larger display areas and access to many professional features. The MR7 from ikan provides 7-inches of viewing area, a series of SDI and HDMI connectors, and waveform monitor, RGB parade and vectorscope for achieving proper exposures, colors and white balance.
Back at the edit bay, it is essential that your monitor deliver accurate colors for optimal results. The Datacolor Spyder4Express is an easy-to-use calibration tool. Its full-spectrum, 7-color sensor accurately calibrates desktops, laptops, iPads and iPhones to ensure that your colors are true-to-life.
Light It Up!
Supremely important to great video is proper lighting. For budget lighting, tungsten can't be beat. Bright and powerful, tungsten lights deliver the greatest amount of light intensity for the least cost. Lowel's Omni Light is an affordable, focusable light that allows you to adjust the beam from spot to flood and is available in a number of output ratings. Their DV Creator 44 is a versatile, 4-light kit, complete with stands, softbox, umbrella, flags, gels, rolling hard case and more.
Companies like Tokina, Kino Flo and Videssence produce individual lights, as well as full kits, using fluorescent tubes and the smaller CFLs (compact fluorescent lamps) for a softer, more pleasing, wrap-around light source.
Currently, the "hot" topic in lighting is LED, or light-emitting diode based, lights. These lights are daylight balanced, use very little power and remain cool to the touch, even after hours of continuous use. The BRUTE 3 by LEDZ is a powerful, portable light source, powered using AC or battery power and weighing in at less than a pound. With a 5500K color temperature and onboard dimmer the BRUTE 3 can be stand or camera-mounted or handheld. For a full kit, check out the Litepanels Sola ENG Flight Kit. Get ready for a variety of lighting scenarios, this kit packs Sola ENG LED Fresnel lights, stands, barn doors, gels, ball head shoe mounts, all in sets of three, along with a softbox and more, into a Pelican case with custom foam interior.
While LEDs are typically daylight balanced, the MicroBeam 512 and 1024 lights from Flolight may be configured into kits with your choice of color temperature, daylight (5600K) or tungsten (3200K). Those with deeper pockets may want to opt for LED lighting with variable color temperature control such as ikan's IB1000 Dual-Color LED Studio Light or Litepanel's 1X1 Bi-Color. For all sorts of creative soft lighting options, check out Chimera and their Video PRO Lightbanks diffusion systems as well.
Storage
Now that all those awesome video and audio assets have been captured, a place is needed to store your video projects. Seagate's Barracuda XT 3TB hard drive is a great internal drive solution with loads of space and fast read/write speeds (156MB/s). If your loved one has a need for speed (and you have the bank account to back it up), solid-state drives are the way to go. Verbatim's SATA III model stores up to 480GB with blistering fast speeds in the 500s of MB/s. For affordable, portable, massive storage capacity, check out the My Passport 2TB portable hard drive from Western Digital. It's powered at both USB 2.0 and 3.0 speeds directly through the cable.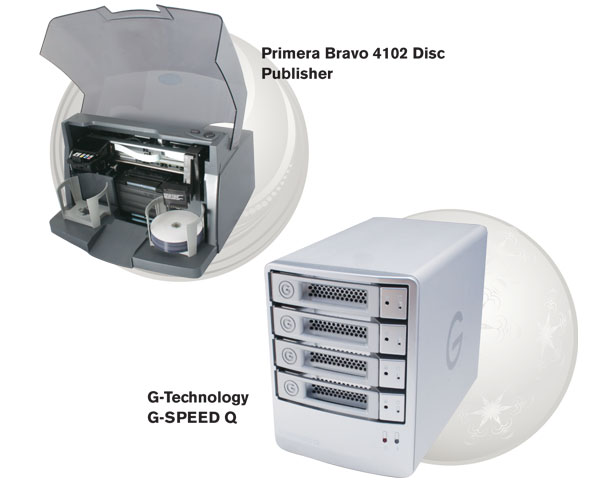 For redundancy and safety from the event of hard drive failure, you may wish to check out a RAID system (Redundant Array of Independent Disks). RAIDs employ multiple disks and protocols to create data redundancy, larger capacities, improve speeds or some combination of these. G-Technology's G-SPEED Q uses four hard drives and is configurable up to 12TB. High-speed connections include eSATA, FireWire 400/800 and USB 2.0. Both RAID 0 for maximum speed and RAID 5 for maximum data protection are supported.
Not wishing to leave out the growing number of portable device users, Kingston has developed the Wi-Drive to provide as much as 64GB of portable, wireless storage, for the iPhone, iPad, iPod touch, Android devices, Kindle Fire and more. It also lets you share your creations with three other users on their own mobile devices simultaneously. How cool is that?
Distribution
Now that production is complete, how is it going to get out there for others to enjoy? If optical disc is your preferred distribution method and only a few copies will be made here and there, then any computer's DVD burner will suffice. If they are to be cranked out in larger numbers though, you'll want to consider a disc duplicator. The Bravo 4102 Blu Disc Publisher from Primera, burns, and beautifully labels, up to 100 CDs, DVDs or Blu-ray discs at a time. For even greater capacity (without labeling), the Vinpower Digital Aero VI Robotic Autoloader Duplicator employs a stack of six burners to crank out up to 600 CDs, DVDs or Blu-rays. Whether using a single master or multiple masters you simply load up the discs, set your preferences and return later to find your discs ready for labeling, packaging and delivery. If you only have an occasional need for large volumes of duplicated discs, there are online companies such as Disc Makers that will do the job. Send them the media files and artwork and they'll send you back beautifully labeled, perfectly duplicated discs, already in their individual cases, complete with shrinkwrap!
This list, of course, just touches the surface of all the gear a video producer should have or wants to have, and it seems like there's never enough – we always want more. So check the Videomaker buyer's guides and our past reviews for the best video products to get your productions done!
Sidebar: Stocking Stuffers
There are many odds-and-ends that can make a video producer's life miserable to be without. Larger stockings may be required for some items, but receiving a few of these stocking stuffers is guaranteed to make your loved one's holiday.
Adapters – What do you do when you go to plug into a venue's mixing board, only to find that the only port available is for a connector you don't have? You "adapt" of course. You can never have too many, or too varied a collection of cable adapters. The Premium Audio Adapter Kit from the Comprehensive Cable and Connectivity Company provides a pair of pretty much all the currently used audio adapters in a sturdy plastic storage case with individual compartments.
Bags – Whether you are protecting your expensive camera or packing around an assortment of miscellany, bags are an essential component of the video production process. Check out Petrol Bags and Case Logic for a variety of bags and Pelican for heavy-duty travel cases, some even with extendable handles and wheels.
Batteries – Extra batteries are always welcome. See Best Buy and Batteries Plus for all your audio and video battery needs.
Cables – Check out B&H, Abe's of Maine and Videoguys for every type of cable imaginable for any audio and video cabling need.
C-Stands – A great stocking stuffer for the Jolly Green Giant perhaps, C-Stands can be invaluable both on set and on location. The Impact Studio Lighting Master Century C-Stand kit with 42-inch riser, grip head and arm is a valuable, heavy-duty, quality stand for safely mounting lights, diffusion panels and anything else you desire.
Gaffer's Tape – Essential to the video producer in so many ways, gaffer's tape is always appreciated. Check out Shurtape and Scapa for a variety of grades and colors.
Gels – Used for matching color temperatures, or color effects, gels are an important part of any video enthusiast's lighting kit. Check out Rosco for a variety of colors and color temperatures in single-sheets, rolls and multi-paks.
Gloves – Safety is of the utmost importance on the set and a good pair of gloves is essential to those handling hot tungsten lights. See Markertek online or even your local hardware store for this essential item.
Green screen – Who doesn't love special effects and being able to create them? TubeTape has an assortment of chromakey green backdrops and stands, flexible pop up screens and even chromakey suits.
Lens Filters – Filters protect the camera's expensive lens, reduce glare, enhance sunsets, create effects, and Tiffen has them all, individually or in sets, as well as nicely padded pouches to keep them safe.
Media – Always be sure to have plenty of media on hand. The last thing your loved one needs is to run out of recording space while shooting that next wedding. SanDisk makes a card for every need, in various speed ratings and with capacities up to 128GB.
NLE Controller – The ShuttlePRO v2 multimedia controller from Contour Design works with most nonlinear editing systems and features 15 fully customizable buttons for accessing the editing commands you use most. The jog/shuttle control knob gives you frame-by-frame control during editing.
Ties – A bunch of cables in a box becomes a tangled mess in a hurry. Hook and loop fasteners from Rip-Tie make quick work of the mess and keep everything nice and tidy.
Contributing editor Mark Holder is a video producer and trainer.